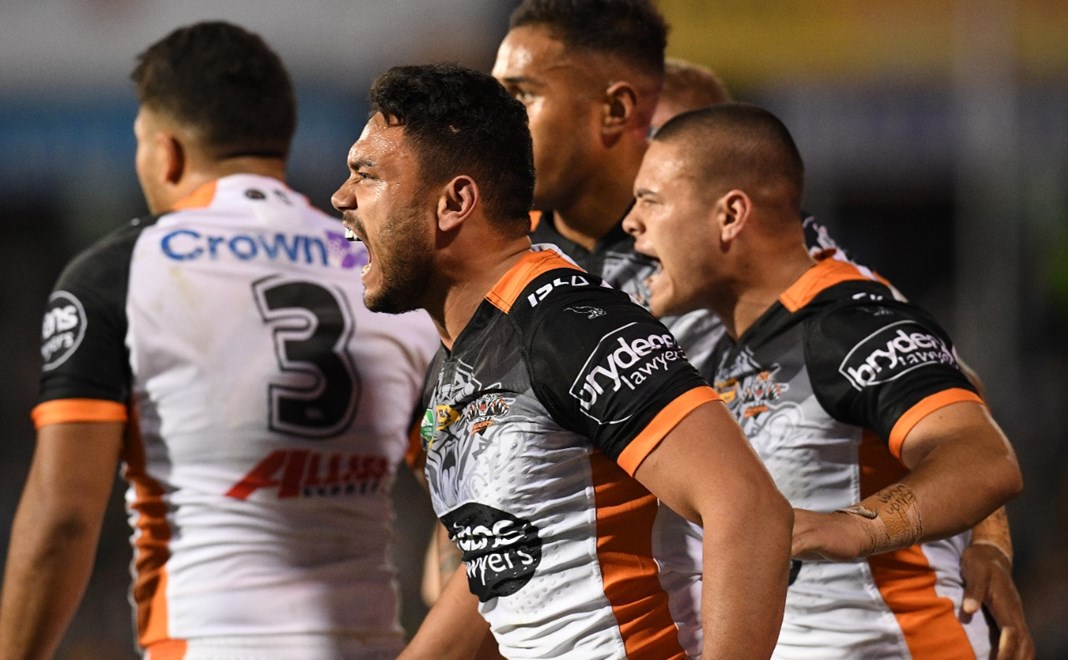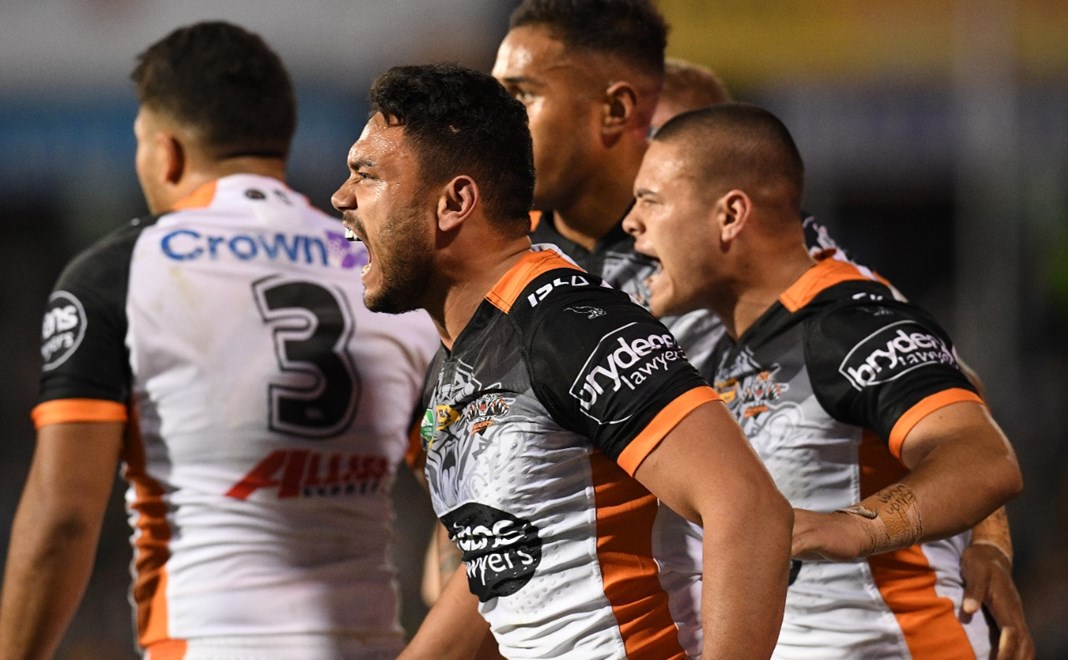 There's a case — and a fairly substantial one — for Wests Tigers winger David Nofoaluma being the Most Improved Player in the NRL in season 2017.
But the growth of a player from year-to-year isn't always the easiest thing to measure.
It's something that's often talked about with Most Improved and the like, but it's not the most straightforward thing to narrow down. Is a player going from three tries scored to six tries scored in a year growth? Conversely, could a three-try season also be growth, despite the fact a certain player might have crossed for more tries in the year before?
At the end of the regular season, NRL.com posed the question as to whether winger David Nofoaluma had seen the biggest individual growth as a player in the NRL in 2017.
Capping off a superb season with a team-high 240 metres, two linebreaks and a try, it was certainly a fair shout — particularly given the Campbelltown junior had pumped out similar numbers all season, despite his side failing to finish in the top eight.
Ever since Nofoaluma's debut season in 2013, it was clear that the kid could play — ending the year with match-winning tries and the Dally M Try of the Year to his name.
But consistency was the key and for Nofoaluma, like all young players, that took time.


Hampered by niggling knee injuries in 2014 and 2015, Nofoaluma would struggle to find that consistency before eventually stringing it together in 2016 — ending the year as the team's leading try-scorer with 14 tries, while also leading the NRL for tackle busts (132).
Missing just one game, his work rate was up amongst the best wingers in the NRL — running for more metres than the likes of Suliasi Vunivalu and Semi Radradra.
Looking back on 2016, Nofoaluma issued somewhat of a warning of what could come in 2017, saying "it's exciting to know what I can do when I get more games in to me."
"I felt better and better as each game went on," he enthused.
Off the back of an international debut for Samoa that saw him not return to pre-season training until December, Nofoaluma immediately hit the ground running — desperate to improve on last year's numbers and etch his name as one of the top wingers in the game.
His Round 1 performance would prove that goal was perhaps closer than first thought, running for over 200 metres, popping five offloads and busting tackles for fun as Wests Tigers ran riot over the South Sydney Rabbitohs. There might not have been the try in the corner that is so often the marker of success for a winger but it was certainly pointed to what was to come for Nofoaluma in 2017 and the remarkable numbers that were set to follow.
Averaging over 180 metres per game through the opening two months of the year, Nofoaluma re-signed with Wests Tigers on a four-year deal, with Coach Ivan Cleary's comments on the winger showing exactly how he felt about the local junior's progress.
"David is in a position now where he can help lead this Club in to the future and help it reach its potential," he said, pointing to the 23-year-old's growth as a player and leader.
Playing every game throughout the year for the first time in his career, Nofoaluma ended a tough season for Wests Tigers with eight tries and 15 linebreaks to his name — numbers that are impressive, but are still well down on what others had achieved.

.@DNofoaluma in 2017.

— Only WT player to play every game.
— 4th in NRL, Total Metres.
— 3rd in NRL, Offloads.
— 5th in NRL, Tackle Breaks. pic.twitter.com/CJMNDP9xCy

— Wests Tigers (@WestsTigers) September 3, 2017

Vunivalu and Radradra had doubled (almost triped) him in tries, Jordan Rapana had 10 more linebreaks, and boom rooke Nick Cotric racked up greater numbers in both.
But as mentioned before, does that define growth and improvement?
Comparing Nofoaluma to the names mentioned above, while the attacking numbers might not have been there this year simply through the lack of attacking opportunities that he had last season when his side finished 9th, his work rate was still ever-present.
Nofoaluma had more running metres than any winger this year. More carries too.
More offloads than any outside back except Tim Lafai. More intercepts than anyone.
And it's perhaps here where we see his biggest claims for the Most Improved in 2017.


Nofoaluma's work-rate in 2016 was superb — 3064 metres, 338 carries, 132 tackle breaks, 38 offloads and 17 linebreaks. And yet, in 2017, it increased exponentially.
His running metres for the year increased by more than 100, despite less linebreaks. His total runs improved by more than 100, despite his side ranking 12th in possession. His offloads increased, as did his tackle breaks, and it's now that we start to see the full picture as to his growth as a player. Sure, the attacking stats that were subjective to other players' performances have dropped off, but Nofoaluma's work-rate never did.
His marked improvement in work-rate was combined with an increased consistency not seen before the 2017 season — bringing about the comments we alluded to earlier as to whether Nofoaluma was the most improved player in the competition this season.
Ultimately, we'll never know, but there's certainly a case to make for the Wests Tigers flyer, who was voted by the players of the game itself as one of the best wingers— ahead of the likes of Vulivalu, Radradra and Josh Addo-Carr, who have all scored far more tries.
Off-season surgery will likely see Nofoaluma miss the chance to stake his claim amongst the best at the 2017 Rugby League World Cup, instead returning for pre-season training in November.
But with another full pre-season under his belt and a host of new players around him next year, the sky is certainly the limit for what the Campbelltown kid can achieve.

Honoured to be apart of the RLPA Dream Team of the Year.
Sucks I couldn't make it due to surgery. #ThePlayersChampion #TheStarSydney

— David Nofoaluma (@DNofoaluma) September 12, 2017