Wests Tigers halfback Luke Brooks says his side are preparing for a more attacking mindset this Sunday when they take on the Canterbury-Bankstown Bulldogs.
After failing to cross the line for the first time in a game this season, Brooks believes his side's attack is far from sputtering and certainly still has plenty of potency to it this year, but also spoke to the need to be more adventurous with the ball and in hand and not be so predictable going forward.
"I think it's just about trying to find that quick play-the-ball and play a bit more footy," Brooks said.
"Especially when we're coming from our end... maybe just playing a bit more footy with the ball will help.
"Last week, we were just going one-out the whole time and that made it a bit easy for Penrith — they've got great line speed and are a great defensive side and we sort of played in to that a bit.
"Maybe throwing the ball around a bit more will generate some of that pressure in the ruck.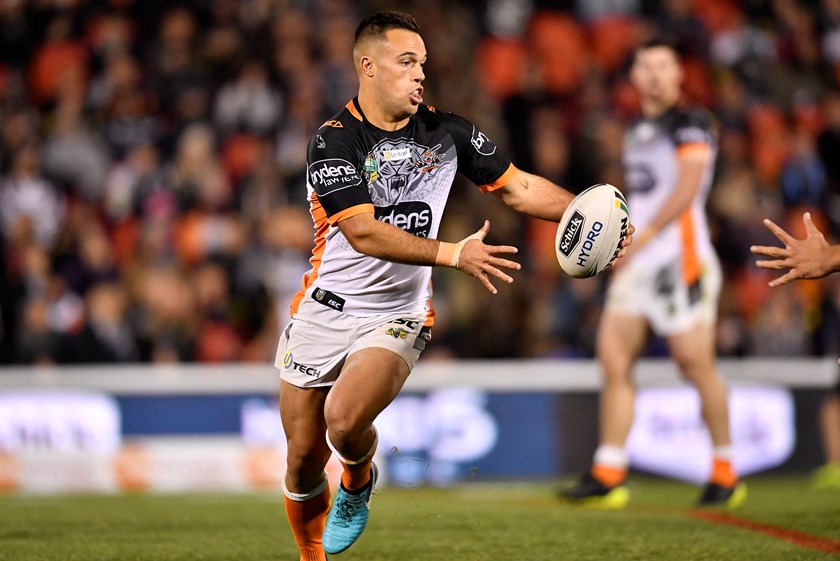 "I think when we were attacking their [Penrith's] line, our sets were so stop-start," he continued.
"We were getting penalties when we were just getting that momentum, and it's hard to attack when the penalties are stuffing up that momentum. It was one of those games where it felt like we were just defending the whole second half, and we couldn't really get in to that rhythm with that attack.
"The past few weeks haven't been our best but we're still confident in our ability to beat other teams."
Looking to add some energy and spark to their attack, the possible return of star five-eighth Josh Reynolds comes at an ideal time for Wests Tigers as they take on his former club this Sunday afternoon.
"We only had one game together and I thought our combination was pretty good then," Brooks said.
"It's obviously going to take a bit of time but hopefully we can keep working on that.
"He's looking good and should be right for Sunday, and it'll be good to have him back.
See what Luke Brooks had to say in full about this week's game in the video above!