In many ways, Luke Brooks' NRL career has been marked by what is familiar.
A local junior of Wests Tigers, the 23-year-old has every game of his career so far as a seven — just the second active player in the game to start at halfback for all of his first 99 games at the one club. 
It's a feat only Daly Cherry-Evans and Adam Reynolds can lay claim to and certainly a remarkable effort given the number of player changes and positional switches that go on in the modern game.
In other ways, however, Brooks' career has been inextricably mixed with change and the unfamiliar.
Braith Anasta, Blake Austin, Mitchell Moses, Chris Lawrence, Tuimoala Lolohea, Benji Marshall, Josh Reynolds and Tyson Gamble; all have spent time at five-eighth while Brooks was the halfback.
Mick Potter, Jason Taylor, Andrew Webster, Ivan Cleary; all have spent time in the coaches box.
To experience eight different halves partners and four different coaches in the space of 99 games without moving club, it's certainly been a process of adapting and evolving for Brooks in his journey — in ways that few other players will ever experience regardless of the number of games they play.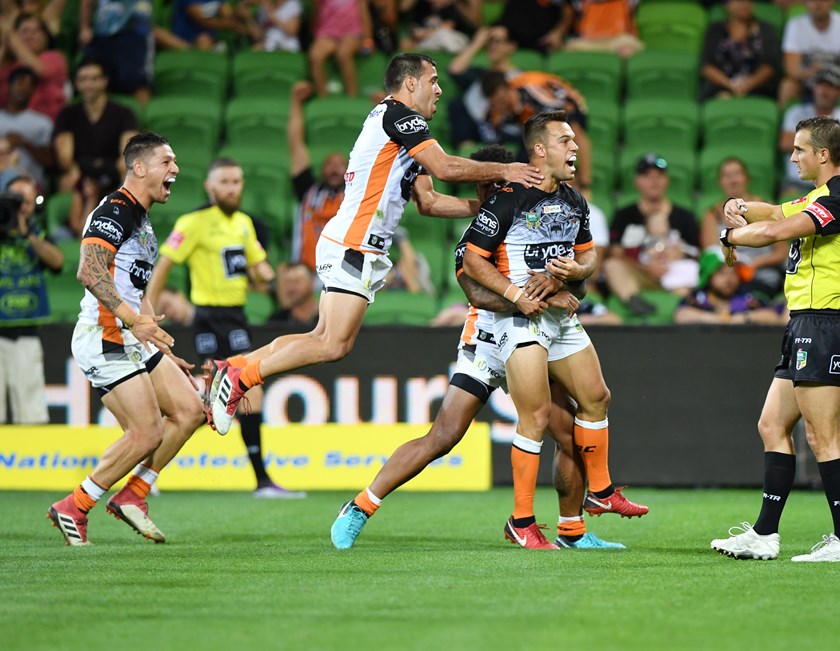 As he prepares for his 100th first-grade game against the St. George-Illawarra Dragons on Sunday, the Holy Cross Rhinos junior reflected on how the constant change has helped better him as a player.
"It's all come pretty quickly," Brooks said. "The past few years have sort of flown by.
"It still feels like I'm a young bloke. I guess I still am, but it doesn't feel like I've played 100 games. 
"It's obvious but I've definitely learned a lot over the past couple of years. 
"I think first-grade and the NRL isn't quite what I expected it to be so far, and that's okay.
"I've had three or four different coaches already and a lot of different halves, so it's been hard to find that stability at times. But, you know, that happens a lot in teams and it's not just guys in the halves — all sort of players come and go and that changes the way you play and grow as a player too."
Not even Brooks can quite believe the fact he's had eight different halves partners in 99 games.
Especially given he's supposedly the one with the "dodgy hammy" tag.
"It's been different, and I guess it's hard to say whether it's been good or bad for me," he said.
"I like to think of it as something that's helped me grow and learn more, maybe faster than I would have otherwise. I don't think I've changed too much even with all those new halves partners — it depends a little bit on who you're playing with, and you might change a little — but not too much really.
I see it as a challenge — to be the same regardless of what the environment around me is like.

Luke Brooks
"I see it as a challenge in a way to be the same regardless of what the environment around me is like.
"I've definitely enjoyed it and it's not something I would change."
It's a mature approach from someone so young — someone who doesn't necessarily carry the same aura within rugby league cognoscenti that other young halves do.
Debuting at just 19, it was inevitable that the baby-faced halfback would grow up and learn by playing the game, rather than it being taught to him. An on-the-job learning, if you will.
And again, it's hard for Brooks to assess whether it's been the best learning style for him. It's all he's known, so rather than long for a different scenario, he simply got to work and grew in the environment around him — even if that environment was still growing itself at the time.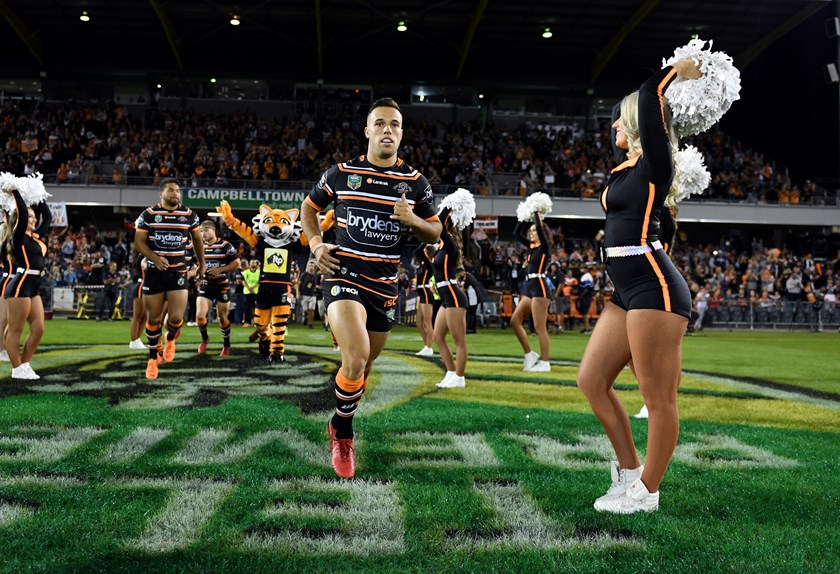 From his five years so far in the NRL, that's been the biggest area of growth.
"I'm definitely a different player to what I was," he reflected.
"Maybe not necessarily that first game but definitely that first year I was in the NRL. 
"I think when you come in to first-grade, especially as a half, you try to score off every player and you're thinking about scoring all the time. You don't know as much about the game as a whole, so you can get a bit too focussed on that and forget that your biggest role in the team isn't just scoring points.
"I've found that hard at times," he added.
"As a young half, you want to score all the time, and as a young team, that's what you want to do.
"But the biggest thing for a half in the game is being able to manage the key moments and the game as a whole. I think that's the most important thing for a half, and it's definitely something I've had to learn.
"Learning the game has just been the biggest thing for me and I've still got lots to go in that too."
Marshall enjoying Brooks partnership
Given Brooks' dominance in his brief Holden Cup stint in 2013 (where he guided the NSW U/20's side to a win over Queensland also Wests Tigers to a finals run), it's easy to see why the Holy Cross Rhinos junior has seen his biggest evolution come in his control and game management.
He knows it's not something a phrase or playing style often associated with him. 
Not yet, anyway.
"Patience," Brooks said without hesitation when asked where his biggest improvement area lies.
"That's the biggest thing I have to keep learning, and it's something Ivan has been big on.
"I'm definitely still learning that and I've got a long way to go in it. You're never a complete player and I'm far from that, and I think having the right coaches here is helping me and helping me get better.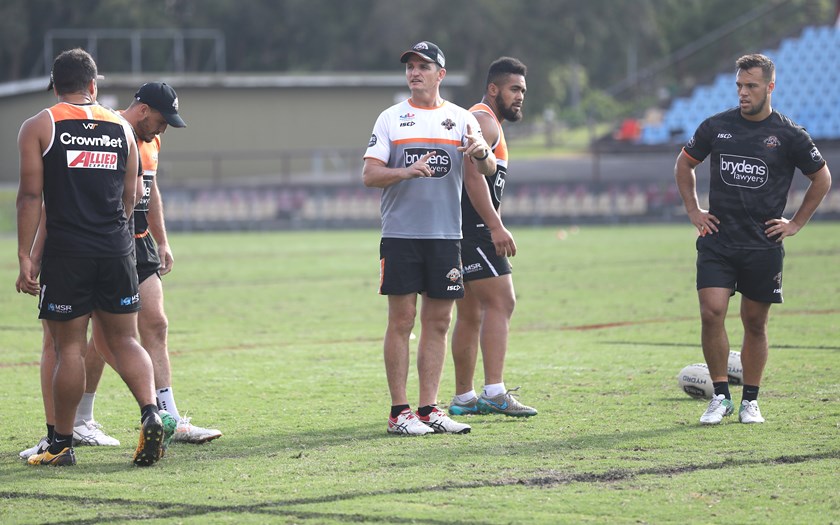 "But I know my main focus is controlling the team and that game management. 
"I think that's what has sort of hurt us over the past couple of weeks as a team too. We've been guilty of rushing it and I think learning when I need to pull the trigger and when not to is the biggest thing.
"You never stop learning, though, so it's good for me to still have things to work on."
Brooks will have the chance to do just that this Sunday when his side takes on St. George-Illawarra — the same side he played game one against back in 2013 at the iconic Sydney Cricket Ground.
Much has changed since then: only two teammates from Wests Tigers will be with him this weekend (and only one of them has been with him at the club the entire time) and for Brooks, that's okay.
He's more than happy for the focus to be on what's ahead. 
"It feels a lifetime ago that debut game," he laughed.
"It's weird how the world works when things line up like that and I can play the Dragons again this week.
"It's a game I'm looking forward to, and not just because it's my 100th. I've never played at Kogarah before and it's a suburban ground and I love playing at grounds like that. The Dragons are going really well this year and I'm sure it'll be a big crowd on a Sunday afternoon so I'm looking forward to it."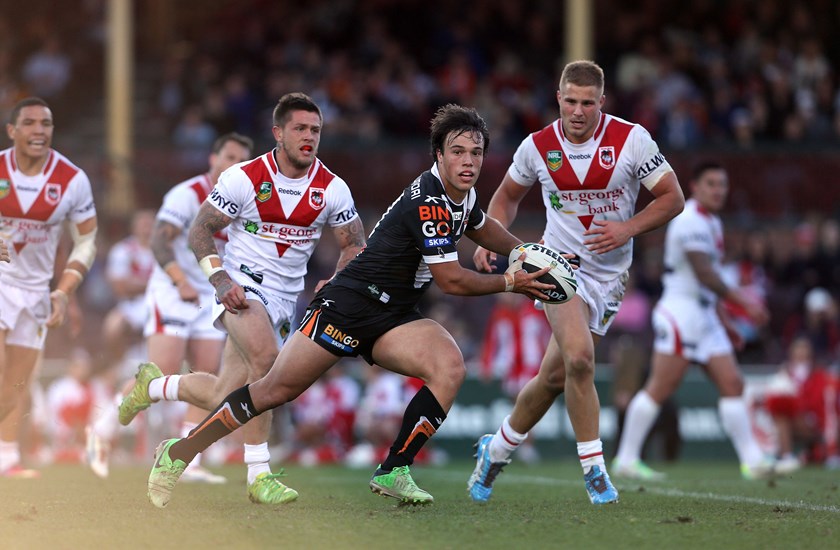 And while the environment around Brooks now is certainly different from what it was almost five years ago, hopefully the result and individual performance from that day isn't.
 "I think going back to what was winning us games is the key focus for us," he said.
"We've let ourselves down in the past couple of weeks and have played probably the worst footy we've done in the last three games of the year which is what is most disappointing.
"For us, it's about making sure we've got a chance to win it in the 80th minute, and that's it.
"It's a long season and there's plenty of footy still to be played anything can happen," Brooks added.
"I remember in 2016 when we weren't in with a shot at all and we managed to string some wins together and came down to the final game of the year to make the finals. So it's not too much about focusing on the results; it's about focusing on the way we play and playing the way we want to play.
"And if we do that, hopefully the results will look after themselves."