Luke Brooks knows he's not really a kid anymore.
As is often the case with an established player who debuted at such a young age, it's hard to exactly point where Brooks falls on the experienced vs. potential scale.
On one hand, he's still young. 
Only 24 this December, Brooks is certainly young compared to the likes of Benji Marshall and Robbie Farah (sorry!) and still below the league average in terms of player age, which last year was a tick over 26.
Yet on the other hand, Brooks is now — over 100 games in to his NRL career — experienced. 2019 will be his sixth full season in first-grade and the pre-season he's currently slogging away in under new Coach Michael Maguire is his seventh with the NRL squad since he first stepped up back in 2013.
Since the start of 2014, no player has played more games for the club than the Holy Cross Rhinos junior — such is his importance and seniority within this squad.
And it's that moment that he currently finds himself in as he approaches 2019.
Locked in at Wests Tigers until just shy of his 30th birthday, Brooks points out that the best part of the long-term deal isn't just the security of his future; rather, it's the chance to change as a player and take on a role that he really hasn't the chance or necessity to at Wests Tigers to date.
"For myself, of course I always want to keep playing consistent footy," he reflected.
"I'd be lying if I said that that wasn't my number one focus for the year — to do my bit for the team and make sure that I'm growing as both a player and a person.
"But I think too it's a good chance for me to work on my leadership. I've been in the NRL for a few years now and it's definitely a side of my game I want to work on.
"I think it's more than just what happens on the field; I really want to make sure that it shows at training and around the club and really make that a part of my game."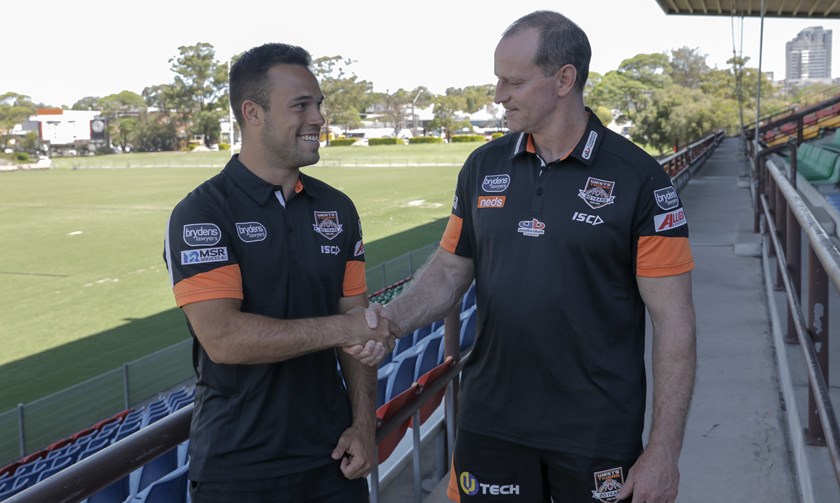 Maguire's history as a coach is littered with experience working with dynamic playmakers, from Ricky Stuart while at Canberra to Cooper Cronk at the Storm.
It's understandable then why the halfback is so excited to work with the Premiership-winner — particularly when hearing what the coach had to say about his potential impact on the side and the glowing reference of his career to date.
"Luke is a well experienced half now and at the prime of being able to take all of the learnings to this point to a whole new level," Maguire said.
"Sitting down and talking to him about his game he's hungry to learn and hungry to improve on where he's at. He prides himself on his defence and obviously he's very keen to learn the different styles of play that I've had experience with working with a number of halfbacks over a number of years.
The things that he's doing is great for this club and for its future and what we want to achieve...

Michael Maguire on Luke Brooks
"Luke's a player who's really willing and open to learning his style, as well as understanding what others see when they're playing and that's something that can help him further develop his game.
"He loves the club, he's a passionate Wests Tigers kid and I'm enjoying working with him," he said. "To see one of our local juniors coming through and doing the things that he's doing is great for this club and for its future and what we want to achieve."