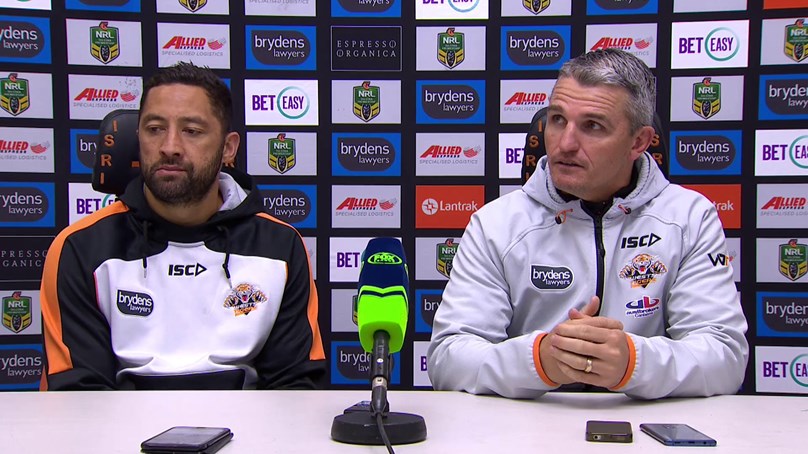 Wests Tigers Coach Ivan Cleary was left bereft of answers as his side slumped to a disappointing 20-12 defeat on Saturday against the St. George-Illawarra Dragons.
Playing in front of a sold-out Leichhardt Oval with the chance to move within two points of the top eight, the home side were left to rue 16 errors with the ball and 45 missed tackles in defence — leaving themselves still in the hunt for finals but certainly far from in the box seat with two games remaining.
Cleary said it was a disappointing result given the promise his side had shown all night.
"I thought we looked really sharp and created opportunities right throughout the game," he said.
"But we just handed over the ball far too easy and it was a theme for the night.
"It was the story of the game [and] if I had all the answers [as to why], we would have won the game."
2018 Match Highlights: Rd.23, Wests Tigers vs. Dragons
Co-captain Benji Marshall echoed his Coach's disappointment in the emotional defeat.
"When it's your season on the line supposedly, the emotions are hard to take when you lose," he said.
"There's a lot of very disappointed guys in there and rightfully so because we didn't deserve to win."
Despite being four points back of a number of teams in the top eight, the fact of the matter is that Wests Tigers still aren't out of the race for the finals, with the Coach emphasising the need to regroup quickly.
"The season's not over, and we still have two more games to go," he said.
"We can't control other things but the reality is that we are still alive, anything can happen.
"But really, our season wasn't going to be defined by what happens externally. It was going to be defined what we did, and we can help define it Thursday night against the Sea Eagles.
"It's probably not a bad week to have a short turnaround; there's no point crying about it now.
"We've got to learn from tonight. We've got a job to do and that's all we can focus on.
"We haven't really performed out there at Campbelltown this year and I think it's time we did."
See what Ivan Cleary and Benji Marshall had to say in full about the game in the video above!