Almost all that Robbie Farah has achieved in Wests Tigers colours has seen the Life Member create history, both individually and for the club.
He was the first hooker to win a Premiership for the club.
The first Wests Tigers player to establish himself as a regular State of Origin and Australian representative.
The first to register 100 games as captain.
The first Life Member.
The first 250-game player.
The list goes on.
And yet while so much of his career has been about creating history, after agreeing to terms for a final, 17th season in the NRL, the 34-year-old's focus is now on creating a legacy at Wests Tigers.
Having played through season 2018 unsure of whether it would be his final season or not, Farah said the confirmation of one last year in the NRL allowed him to ensure that would be the case.
"I think it's just a chance to embrace everything and take it all in and enjoy my footy," Farah reflected.
"Knowing it's going to be my last year allows me to do that.
"For me, hopefully I can leave a legacy once I'm gone and leave the club in a better place than it is now.
"Once Benji and I are gone, it's important that that's our focus.
"I'm really looking forward to playing that role, both on and off the field."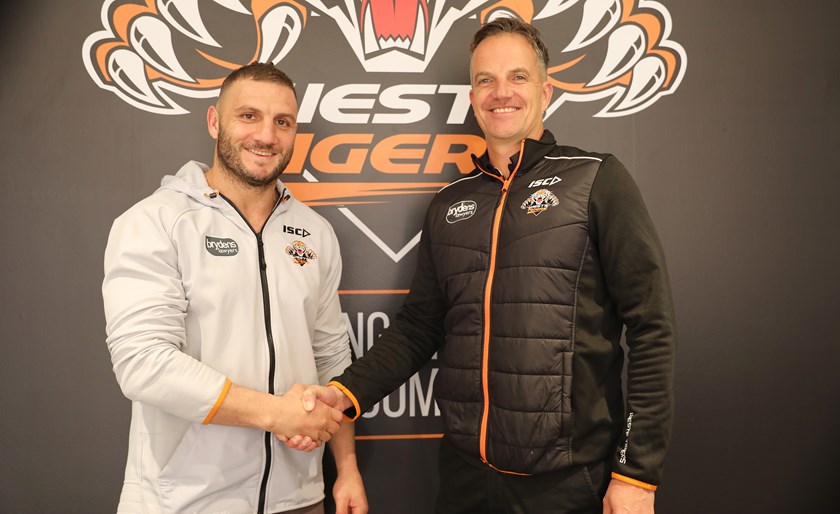 Of particular focus is young gun hooker Jacob Liddle — the club's bright prospect for the No.9 jersey who will continue to push Farah for share of the No.9 jersey throughout 2019, just as he has this year.
Farah was adamant that his role was about equipping Liddle, and Wests Tigers, for the future.
"I really hope that I have a lot to do with Jacob's development next year," Farah enthused.
"I'm looking forward to seeing how he goes after a full pre-season under his belt.
"I'll make sure I get a hold of him in the gym and work hard," he laughed.
"On the field too, I want to make sure that I'm helping him and working with him.
"I want to make sure that we're — as a club — giving him every chance to turn in to a regular first-grader, week-in and week-out, and I'm sure that we will."
See what Robbie Farah had to say in full about his decision to re-sign with Wests Tigers in the video above!
Benji Marshall re-signs with Wests Tigers