With so much changing at Wests Tigers in the last five years, the man who has been there through it all delivered one of his finest seasons in memory in 2018.
Chris Lawrence finished second in the club's Kelly-Barnes Award voting and could have gone close to challenging Luke Brooks had it not been for minor hand and hamstring injuries that picked up in the latter half of the season, forcing the veteran back rower to miss a handful of appearances for the side.
Despite that, the Eagle Vale St. Andrews junior still starred on the left edge throughout the year for Wests Tigers — playing 19 games and scoring seven tries, the most in a single season for him since 2011.
In doing so, Lawrence passed fellow Life Member Benji Marshall to become the club's all-time top try-scorer, and will have his eyes set on reaching the 250-game for the club now in 2019 (currently on 227).
His combination with Brooks and Corey Thompson on the left edge was a real strength for the side in 2018, and will only improve again going forward with more time together at training. Moses Mbye's arrival at the back showed that Ivan Cleary's side will have another element to their attack next year, and if Lawrence can continue to stay injury free, there's no reason why he can't produce another season like 2018.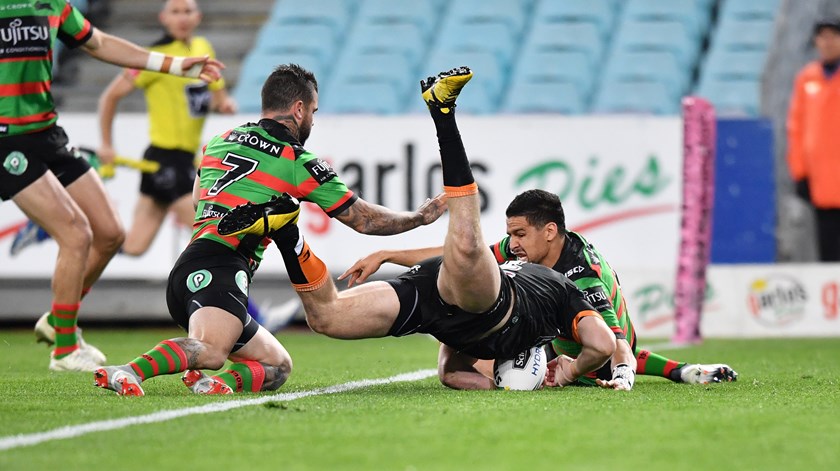 WHAT STOOD OUT IN 2018
It comes with experience, but Lawrence again showed in 2018 the importance (and effectiveness) of having a level head in key moments. The back rower was often his side's go-to-man in crucial points of games, helping Wests Tigers to several close wins throughout the year. It was his try that gave Wests Tigers a stunning 11-10 win over Melbourne in Auckland; it was his try that sealed the win in a 14-10 victory over the Canterbury-Bankstown Bulldogs in Round 10. With his side looking to produce a comeback, it was his four-pointer against the Dragons in Round 23 that almost brought the home side back in to the lead, while in Round 24, his try off a Robbie Farah grubber sparked the run of points that kept their season alive. It's all well and good to score tries, but just how key those moments were throughout the year is worth noting for Lawrence and just how important he is to this side going forward.
WHAT'S TO COME IN 2019
Off contract at the end of the season, "Rowdy" will have his eyes set on becoming just the second player in club history to reach the 250-game mark for the club with 23 more games required. If he does reach that mark, he'll have had another injury-free season — something which he did in 2018 aside from those two minor knocks. Lawrence's ability is unquestioned and his combination with Brooks is only getting better as the years go on, and if he can stay injury free again, the results will no doubt continue to come.
MILESTONES AND ACHIEVEMENTS
Wests Tigers all-time top try-scorer (currently 83 tries)
Nominated for Wests Tigers NRL Player of the Year (Kelly-Barnes) Award
Nominated for Wests Tigers NRL Players' Player Award
Wests Tigers co-captain