Wests Tigers forward Chris Lawrence says the return of fellow veteran Benji Marshall is an invaluable asset for his side as they look to end a run of two straight defeats this Friday against Brisbane.
Left out of the side for the past month, Marshall returned off the bench against South Sydney last week and proved instrumental in attack — sparking Michael Maguire's side to a late flurry of points that threatened to turn the match.
With Josh Reynolds suspended for the next fortnight, Marshall will assume the controls once again and will likely take on the more dominant role with Billy Walters his preferred partner instead of regular custodian Luke Brooks.
Having played more games with him than any other player in Wests Tigers side this week, Lawrence was well equipped to discuss the 35-year-old's significance.
"Benji has been very good the entire time [he wasn't in the side]," Lawrence said.
"The way he handled it and the way he conducted himself was great.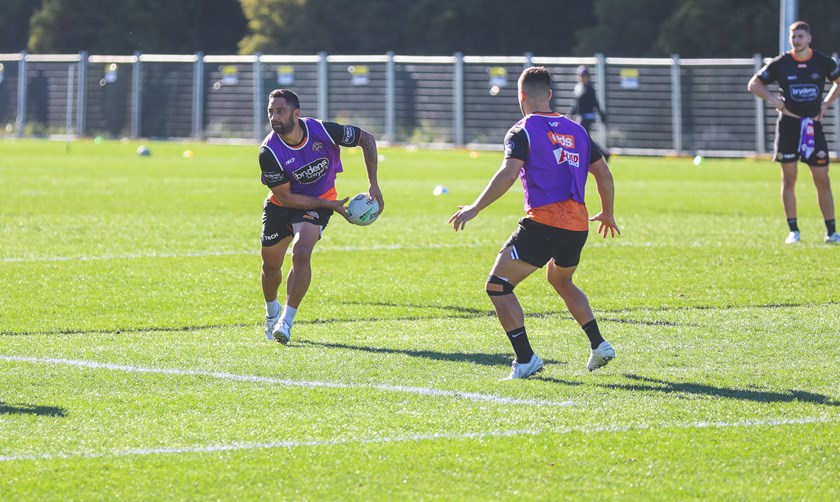 "I think what's been key too is the way that he has been teaching the younger guys with his talk and to the ways in which he really leads the team.
"He is vital in his leadership and his experience.
"He did great at training today and it's good to see him back. There's been moments in the year where we have been consistent during the game but have not executed it precisely and that is something we want to make sure isn't reoccurring."
NRL Team Announcement: Round 10

Favourable results over the weekend ensured that, despite two straight defeats, Wests Tigers remained in the top eight as they season reaches its halfway point this weekend. While always key, Lawrence said being able to control the ladder position as best as possible was even more important in a shortened season.
"It's important you keep building up your wins because very quickly the season can get away from you," Lawrence enthused.  "It was a pretty disappointing performance last week and we definitely want to bounce back.
"Teams are around the same points. If you start looking at where you are on the ladder and not about performance and getting the wins week-to-week... it doesn't take much and a couple losses and you can slide down.
"It's possible to quickly lose touch of that top eight and you end up chasing it at the back end of the year which is really hard to do."
Match: Wests Tigers v Broncos
Round 10 -
Venue: Leichhardt Oval, Sydney