As we draw closer to the start of the 2019 NRL season, we take a look at the players that you're going to want in your NRL Fantasy team come the Round 1 clash against the Sea Eagles.
Position-by-position, we'll break down each player available from Wests Tigers with reasons why they're certainly worth picking up in your squad for the year ahead.
For more information on NRL Fantasy, pick your team at fantasy.nrl.com.
Moses Mbye (WFB/HLF — $594,000)
The new captain of Wests Tigers in 2019, Moses Mbye is now locked in to start the year at fullback in what will be his first full season with the club. The former Bulldog was impressive following his mid-season switch — scoring three tries and having a hand in several others over the final few weeks of the season. He does start the year close to the $600K price range, and possibly won't have the goal-kicking duties again with Esan Marsters in the side, but there's still a lot to like about Mbye. Injury aside, he'll be there every week and will be a prominent part of the side's attack — which will no doubt improve this year under Michael Maguire — plus he's got the added dual-position flexibility of also being available at halfback.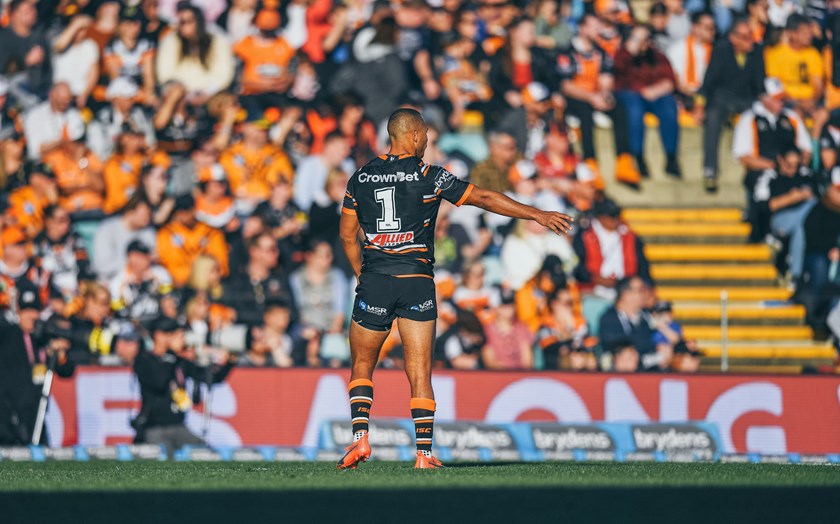 David Nofoaluma (WFB — $521,000)
One of the best players in NRL Fantasy in 2017, David Nofoaluma had somewhat of a quiet season numbers-wise in 2018 but looks primed for a return to the fantasy elite under Maguire in 2019. The Campbelltown flyer scored just six tries in 2018 as the club's left edge proved far more potent than the right, but with Josh Reynolds back from injury and the inclusion of Ryan Matterson as a force in the back row, that could well change in the coming season. A tackle-busting machine who simply loves the tough carries from his own end, Nofoaluma is guaranteed to put up a strong base every week with the potential for attacking stats on top of that. The club's all-time top try-scorer at Campbelltown Stadium, Nofoaluma will have two games at the venue in his opening three games, followed by a trip to Panthers Stadium in Round 4 where he has career fantasy average of 48.25. That price might not be there for long if he comes out firing to start the season, so it's definitely worth getting on now.
Robert Jennings (WFB — $516,000)
The latest arrival to Wests Tigers in 2019, Robert Jennings offers an intriguing prospect for fantasy coaches — purely from the point of view that his role in the side could be varied. Jennings only signed with the club last week but has travelled with the first-grade squad to New Zealand for their trial match against the Warriors this week, so it'll be interesting to see what impact he has there. The former Rabbitoh was an NRL Fantasy machine on the left in 2018 with his try-scoring exploits, but whether he gets that role at Wests Tigers in 2019 remains to be seen. Jennings could play on either the left or the right at either centre or wing for his new club, which could lead to a strong base for the attacking stats to come off. Priced at just over $500K following his quality 2018 season, Jennings is a big investment to make, but if he produces like he did last year, it's definitely a worthwhile one. It's also worth noting that Jennings holds a career average of 49 against Wests Tigers' Round 1 opponents, the Manly-Warringah Sea Eagles. If that ends up being his club debut at Leichhardt Oval, he could well be on track to put up that number and more.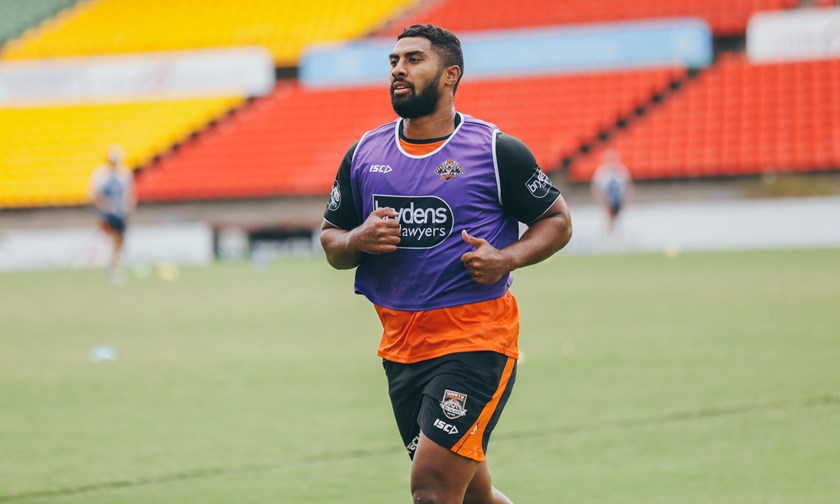 Corey Thompson (WFB — $469,000)
Wests Tigers leading try-scorer in 2018 and one of the unsung stars of the season, Corey Thompson will be looking to produce bigger and better numbers again in 2019 under a new Head Coach in Michael Maguire. The diminutive winger was a highlight for Wests Tigers last year and could certainly be an attacking key again this year... once we know what his place in the side is. Depending on what role Jennings has and if he is there for Round 1, as well as the likes of Mahe Fonua and Paul Momirovski, Thompson could be a handy addition to the side at a sub-500K price. 
Mahe Fonua (CTR/WFB — $452,000)
The mullet-man is back in 2019 after being a Fantasy favourite last year with his damaging runs and incredible base stats, and looms large as one to watch in 2019. If he can crack a spot in Wests Tigers back-line (which is somewhat of a trend here), Fonua is certainly worth looking at because the base stats will always be there as well as the potential for attacking returns. For all his impact, Fonua only scored one try for Wests Tigers last year from his 10 games so the numbers could have easily priced him above $500K had a few more attacking points gone his way. As it stands, the $452K on offer for a player with strong base and potential high scoring — as well as dual-position flexibility with the centres — seems to tick all the boxes for fantasy coaches. It all just comes down to that all-important Round 1 team list...
Play like Tarzan: Fonua ready to fire after pre-season
Dylan Smith (WFB — $212,000)
The cheapie of Wests Tigers backline in 2019, teenage fullback Dylan Smith is available for purchase at bottom-dollar price for Fantasy coaches and certainly one worth keeping an eye on. The 19-year-old only featured in six games for Wests Tigers reserve grade side but had a hand in five tries and four linebreaks with an average of 120 metres and nearly six tackle breaks per game — all very impressive numbers for a young fullback playing against men. Progressing out of the 2018 Development squad and in to the full-time squad, Smith is eligible for first-grade selection this year and will likely start the season as the primary backup to Mbye at fullback with Corey Thompson looking to have found a home for himself on the wing. Picking Smith might just free up the cash required to splash on another big-name too, so if you're short on a cheapie outside back for the side, this might be the one.