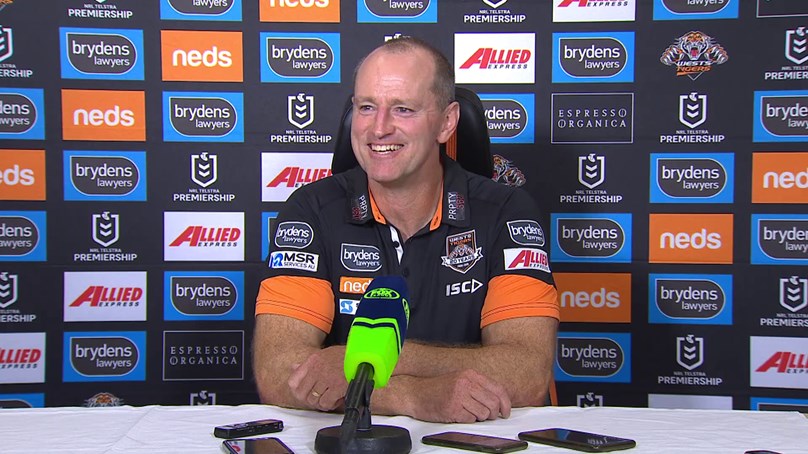 Wests Tigers Head Coach Michael Maguire spoke with the media following his side's win over the Manly-Warringah Sea Eagles, saying the victory was a good starting point for the year ahead.
After rainy conditions to start the game forced his side to tough it out early on, a strong pre-season training campaign saw them finish over the top of the Sea Eagles in the second half — much to the delight of the new Coach at Wests Tigers.
"I'm really pleased with the players because we put a lot of work in," Maguire said.
"This is a small reward now to takeaway, but we know there's a lot ahead of us too.
"The amount the group have brought in to what we're trying to build is fantastic. We've got a good senior group and a good blend of young guys; tonight is a starting point that we can go from but we also know a lot is ahead of us as well."
The troubling wet weather out at Leichhardt meant adjustments were needed from the side to take the victory — something which Maguire felt they did well.
2019 Match Highlights: Rd.1, Wests Tigers vs. Sea Eagles
"When the rain comes out, the game changes with the capacity to move the ball around less than what we would have liked at times, but I thought they stayed patient on the field," said Maguire.
"In the first half, a bit of our own worst enemy, but at half time they came in and re-grouped and that's the real pleasing part about chatting with this group.
"They came out at half time and responded to what they spoke about."
Of many highlights to come from tonight, Maguire said he was impressed with 21-year-old Thomas Mikaele, who held his own with his first-grade debut.
"There were a few nerves there before the game but it's always great to debut a young man and see him go so well too," he enthused. "He's done a great job throughout the pre season and that's the reason he's getting the rewards.
"I thought he did a great job there and he can hold his head up."
See what Maguire had to say in full about tonight's game in the video above!