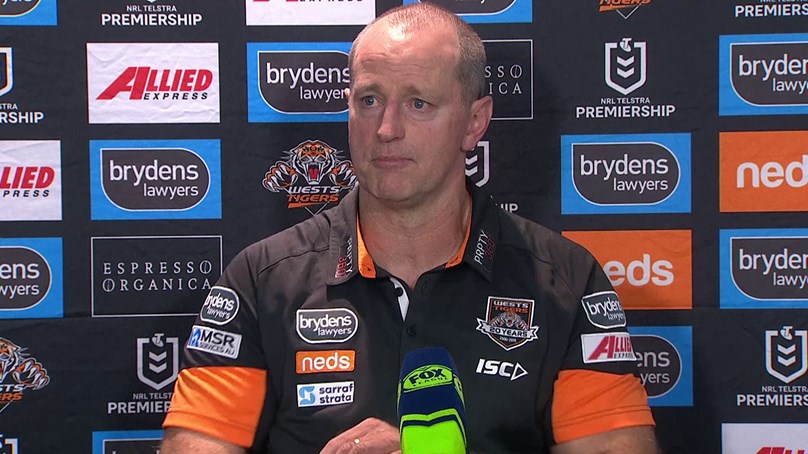 Wests Tigers Head Coach Michael Maguire was stressing the need for consistency after his side bounced back with a good win over the Gold Coast Titans on Saturday in Tamworth.
Having conceded 51 points on Easter Monday against Parramatta, Maguire said he was extremely pleased to see the side bounce back the way that they did — particularly after going 14-0 down early — but said the next evolution for the team was the ability to deliver what they wanted to week-in and week-out. 
"Our big one now is around putting consistency on that performance," Maguire said.
"As an entire organisation, that's our next step — to be able to continue to deliver performances with good momentum.
"One thing I do know about this group is that there's a lot of belief in each other.
"It was great to see they showed they belief in each other down 14-0.
"Five days ago, we weren't in a good place as a team, so to see them climb out and do the things we've been practicing for quite some time now was the key."
2019 Match Highlights: Rd.7, Wests Tigers vs. Titans
After losing Josh Reynolds to a knee injury inside the opening eight minutes, followed by two quick Titans tries, Maguire said he was impressed with his side's attitude off the back of that to keep the Gold Coast scoreless for over 60 minutes.
"Particularly after that second try you watch their body language," Maguire said, "and you look at them and see what the response is going to be.
"I think the leaders came together on the try-line and the words said there helped turn it around. The thing was too that they went and did it and not just say it.
"That was the most pleasing thing for me."
Wests Tigers will face their toughest test of the season so far when they take on the defending premiers Sydney Roosters at the Sydney Cricket Ground in Round 8 — a side they played two enthralling matches against during the 2018 season.
Match: Roosters v Wests Tigers
Round 8 -
Venue: Sydney Cricket Ground, Sydney