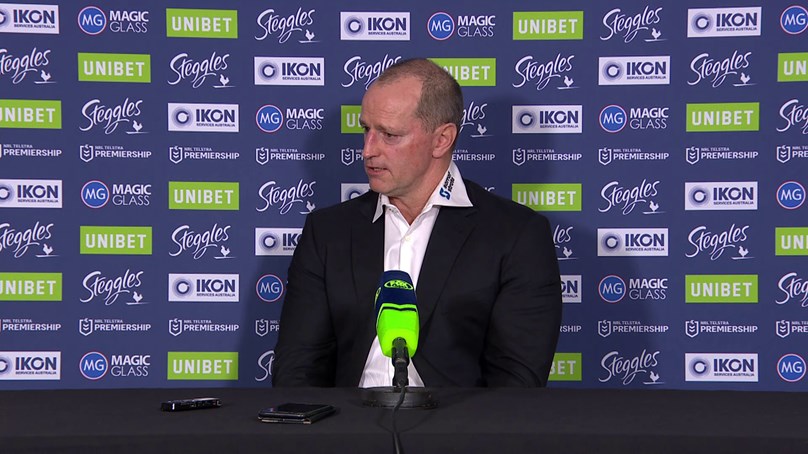 Wests Tigers Head Coach Michael Maguire said he was again looking for consistency from his side after going down 42-12 in disappointing fashion to the Sydney Roosters on Saturday.
Level just five minutes before half-time and then trailing by six points early in the second half, Maguire's side were certainly in the contest against the defending premiers before a flurry of points from Latrell Mitchell killed off any comeback.
For Maguire, it was another night where his side had a big learning experience.
"It's about the little areas of the game for us," Maguire enthused post-match.
"That's one thing I'm learning about this group — we're in moments but we can fall out of them quickly. One thing I've experienced over time is that teams like the Roosters, the level of playing they're at in the moment, they can stay at it for long periods of time [because] they know their game really well.
"It's something we need to learn.
"Obviously we have games that we've shown that we have some really good periods, but we've got to learn to stay there in certain moments of the game.
Match: Roosters v Wests Tigers
Round 8 -
Venue: Sydney Cricket Ground, Sydney
"Class players find moments in teams that have lapses and that's where the class acts come out. If you give them space and time, they'll find it.
"It's something we need to learn as a club. The Roosters as an organisation has continually been playing that level and that's something we need to get to."
Dropping back outside the top eight heading in to next week's Magic Round clash against the Penrith Panthers, Maguire said the performance was a disappointing reflection of his side on the night given their progress in the year so far. 
"It's disappointing [because] we're a better team than what we showed," he said.
"I thought the effort was there but again it's us learning how to play at that level for longer periods of time.
"It's how you practice everything you do, how you look after yourself away from the field to turning up to training and being at that high level.
"That's something we need to continue to work towards,
"I can't fault our boys at training. But we've got to find little ways of continually improving each individuals game and that adds to the team's game."
2019 Match Highlights: Rd.8, Roosters vs. Wests Tigers