Wests Tigers Jersey Flegg have sprung an upset in their Round 13 clash on Saturday by keeping the in-form Canberra Raiders scoreless in a 22-0 win at Campbelltown Sports Stadium.
Despite heading in to the match off the back of four straight defeats, Wests Tigers defended brilliantly against the fourth-placed Raiders and took advantage of their moments in attack to emerge with a convincing victory in the end.
The win puts Wests Tigers back on the edge of the top eight with three consecutive home games coming up at Campbelltown Sports Stadium later this month.
After keeping the visitors at bay early in the contest, Wests Tigers finally broke the scoring 10 minutes before half-time when a sharp left edge switch saw Zac Cini dive over untouched, with Ben Stevanovic converting from the sideline for a 6-0 lead.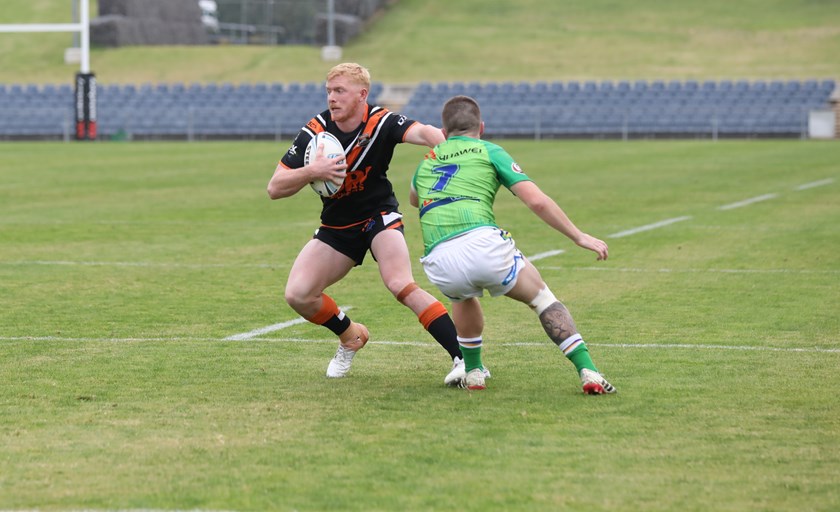 Holding the narrow lead at the break, the home side would again turn defence in to attack when Curtis Wilson snatched an intercept on his own line — racing 100m down field to score in the 42nd minute and double his side's advantage.
Cini was causing the Raiders all sorts of problems on the left with his sharp left foot step, and after putting Aiden Young away with a lovely late offload, would help his side move further in front with a repeat set building pressure on the Raiders.
After three consecutive sets, it was a clever kick from Max Burey that found space in behind the line for Liam Scolari to collect just before the dead ball line.
Stevanovic — who had shifted to fullback with Logen Dillon off for a concussion test — continued his sharp afternoon with the boot with another conversion from the sideline to put Wests Tigers will in front with 20 minutes remaining in the contest.
It was fitting that Cini would put the icing on the cake for Wests Tigers inside the final five minutes, collecting a lovely late offload from Development Player Henry Lealuga-Puhotau to crash over for his second try of the afternoon.
Off the back of today's win, Wests Tigers will look to produce another upset next week when they take on the second-placed Newcastle Knights at Campbelltown.
Wests Tigers 22 (Cini 2, Wilson, Scolari tries; Stevanovic 3/4 goals) def. Canberra Raiders 0 at Campbelltown Sports Stadium
Team Lists
Backs
Fullback for Wests Tigers is number 1

Logen

Dillon

Fullback for Raiders is number 1

Daine

Spencer

Winger for Wests Tigers is number 2

Aiden

Young

Winger for Raiders is number 2

Lachlan

Eveston

Centre for Wests Tigers is number 3

Zac

Cini

Centre for Raiders is number 3

Harley

Smith-Shields

Centre for Wests Tigers is number 4

Curtis

Wilson

Centre for Raiders is number 4

Matthew

Timoko

Winger for Wests Tigers is number 23

Liam

SCOLARI

Winger for Raiders is number 5

Jackson

Stuart

Five-Eighth for Wests Tigers is number 6

Max

Burey

Five-Eighth for Raiders is number 6

Jarrett

Subloo

Halfback for Wests Tigers is number 7

Ben

Stevanovic

Halfback for Raiders is number 7

Tobias

Westcott
Forwards
Prop for Wests Tigers is number 16

Mavoni

Tuifua

Prop for Raiders is number 8

Charlie

Rorke

Hooker for Wests Tigers is number 15

Rajko

Jankovic

Hooker for Raiders is number 9

Liam

Mock

Prop for Wests Tigers is number 10

Sione

Tupou

Prop for Raiders is number 10

Silafano

TITIUTI

2nd Row for Wests Tigers is number 11

Henry

Lealuga-Puhotau

2nd Row for Raiders is number 11

Duwanye

Mariner

2nd Row for Wests Tigers is number 12

Ben

Seufale

2nd Row for Raiders is number 12

Kai

O'Donnell

Lock for Wests Tigers is number 13

Jordan

Main

Lock for Raiders is number 13

Tom

Robertson
Interchange
Interchange for Wests Tigers is number 8

Felix

Smith

Interchange for Raiders is number 14

Joe

Roberts

Interchange for Wests Tigers is number 14

Bennett

Wheelhouse

Interchange for Raiders is number 15

Matthew

Dragisic

Interchange for Wests Tigers is number 17

Lucas

Castle

Interchange for Raiders is number 16

Tyson

Hodge

Interchange for Wests Tigers is number 21

Kobe

Chamberlain

Interchange for Raiders is number 17

Ata

Mariota
Match Officials
Referee: Cameron Turner
Touch Judge: Bradley Kiehne
Touch Judge: Ben McMurray