Wests TigersHead Coach Michael Maguire gives the final word ahead of his side's Round 14 clash against the North Queensland Cowboys this Friday night at 1300 SMILES Stadium.
Coming off the back of a loss last weekend, Maguire's men are looking to bounce back on Friday night, with the Coach highlighting that the side have been training vigorously as they prepare to bounce back in to the winner's circle.
"It's about us making sure we bounce back from where we've been," Maguire said.
"The boys have been training well and we need to make sure we transfer that on to the park now. The Cowboys are a strong team and have quality players but we've just been focusing on ourselves at the moment to turn this around.
"I've seen some good things happening at training and if we can transfer that onto the park for 80 minutes, we'll be in a good place.
"There are areas of our game we've looked at that we need to improve on, and we've shown that improvements through periods throughout our games so far."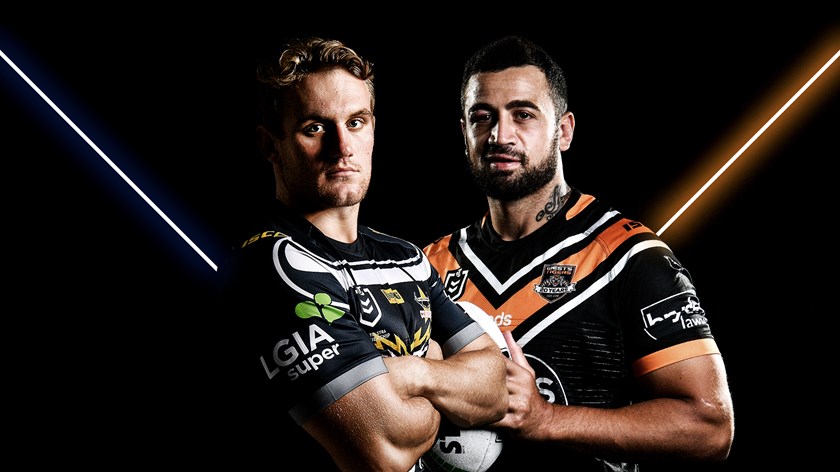 After sitting out last week's game, Robert Jennings returns to the side this weekend alongside Benji Marshall, who was in some doubt after copping an elbow to the eye last week against Canberra. Corey Thompson will line up at fullback with Moses Mbye named in the centres, with Maguire commenting on how the team changes this week will affect the side's attacking output against the Cowboys.
"Robert is a big talented player who's doing his job and working hard in the back field," said Maguire. "We also making sure he finishes the chances now. 
"I thought with the the balance of the team that Moses Mbye adds a bit of a different dynamic there on the left. Corey Thompson been performing well for us at fullback, and to have that quality of a player out on the park and in our squad is great.
"We are wanting to shift the ball a little more and having Mbye out there on the park will give us more opportunities."
Chris Lawrence was also a welcome return to the side last week as he recovers from a long-term injury, with Maguire emphasising that the best of the experienced forward would start to come this week after blowing out the cobwebs last week. 
"I think you'll see a real improved Chris Lawrence this week," he said.
"For your first game back from where he was, that was a huge accomplishment.
"Now he's back playing, and he's had his run, we're looking forward to see him get out and run and doing all the things we know he's capable of doing."
Match: Cowboys v Wests Tigers
Round 14 -
Venue: 1300SMILES Stadium, Townsville