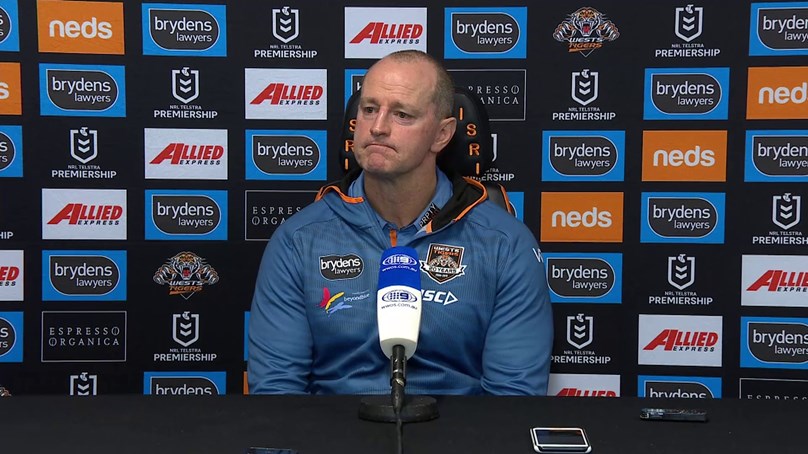 Wests Tigers Head Coach Michael Maguire says while his side have some clear areas to improve on, he was extremely proud of their relentless desire to come away with the win last night.
As he was in Brisbane earlier this year, Michael Chee Kam was the hero for Maguire's side with a stunning solo try from halfway to win the game late on.
Guilty of not closing out some tight matches earlier this season, Wests Tigers have now found a way to scrap their way to victories in back-to-back games following a Golden Point win over the Cowboys in Round 14. 
And for Maguire, while conceding there was clear improvements to be made in attack, that effort and ability to win tight games isn't going unnoticed.
"We definitely made it hard for ourselves," Maguire said post-match.
"The way we let the ball roll dead a number of times and having seven tackle sets... our finishes to our sets weren't there tonight.
"That's something we'll have to improve moving forward, but the way the team fought is a big piece of what I'll take out of tonight's performance.
"We found a way to win tonight, and we had to," he said.
Chee-Kam scores the match-winner again

"We're in a position with where we are on the ladder that if we want to do something in this competition we have to keep coming up with wins like that.
"I really hope the boys take belief out of what we're doing at the moment. We're really finding ugly ways to win [and] there's many teams doing that at the moment.
"That's what this competition is all about — finding ways to win."
Having wildly cheered on Chee Kam in his side's win over the Broncos in Round 5, Maguire was far more subdued in his celebrations this time around, but praised the versatile forward's ability to make something happen with the ball.
"He did a good job today for us," Maguire said. 
"The boys actually said to him prior to the game you're going to have to come up with something special... I didn't realise it was going to be like that, though!
"He's got an x-factor around him and it's great to have him amongst the boys.
"He's quick and fast and under fatigue, players like Chee can come up with something like that. It went backwards and forwards and no one was really taking control, and he was able to come up with a big play." 
Wests Tigers will look to make it three wins in a row when they play host to the Sydney Roosters next Friday, July 5 at Bankwest Stadium in Round 16.
Match: Wests Tigers v Roosters
Round 16 -
Venue: Bankwest Stadium, Sydney