Wests Tigers hooker Robbie Farah took time to reflect on his career this week as he prepares to take to the field for the 300th time this Friday night against the Newcastle Knights.
Farah will become just the 39th player in Telstra Premiership history to reach the 300-game milestone, and said while the occasion would no doubt be a special one on Friday, it would be a night that was more for those around him than himself.
"I haven't really thought about it too much, to be honest," Farah admitted. "We're in a situation where we need to win, so I'm not too concerned about individual milestones — it's just all about getting the win this week.
"I think those things are things you look back on at the end of your career and you have a sense of pride of what you've been able to achieve in the game.
"It is obviously a nice milestone but more so for the people around me than myself. The people who have played a big part in my career and been there through the ups and downs, especially through the tough times... it's more for them.
"They'll all be there this week and it'll be a proud moment for them.
"Once I have the chance to look back on my career somewhere down the track, I think it'll be a pretty proud moment but I really just want to win this week."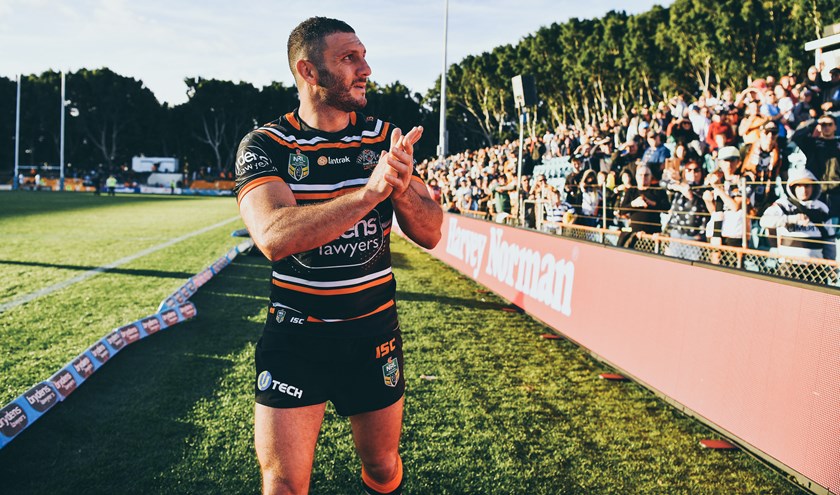 The most-capped player in Wests Tigers history, Farah left the club in 2016 before returning in 2018 after a text message from Benji Marshall. 
The 35-year-old admitted he never thought he would get the chance to return to the club, and said were it not for the move, his career would likely have been over. 
"I'm just grateful to still be going — I thought my career was over two years ago," he said. "I was running around at the Bears in NSW Cup and I was ready to walk away from the game and it was pretty hard to find the motivation to go out and play. 
"I thought I was done at that stage.
"But to have the opportunity to come back here — which I never thought would happen after the way I left last time — for it all to work out and me able to finish my career here is something I've been grateful for every single day."
For me able to finish my career here is something I've been grateful for every single day.

Robbie Farah
"I had the opportunity to play my 250th [club game] here and that was pretty special because that got taken away from me a few years ago. This is now just the icing on the cake and I'm just grateful for all these opportunities that I've had."
"When I was there at the Bunnies, it wasn't like I was going to get back in the team if I played well," he said. "I was kind of just stuck there and I didn't know what my next move was going to be, and as a footy player, when you're finding it hard to get out of bed and the motivation to go to training you feel like you're letting your teammates and the club down. So I was willing to just walk away.
"But coming back here really came from nowhere and it gave me a new lease on life. I started having fun again and I've just been enjoying being back."

Off contract at the end of the season and yet to make a call on his future, the Life Member said there was no desire to rush the decision – instead preferring to enjoy the final moments of his career, one way or another.
"I thought I was going to retire at the end of last year — I came here last year on a nine-week contract as it's all they could guarantee me," Farah said.
"I've just tried to soak it in and enjoy every moment because I thought it was all over a couple of years ago. Once you lose something, you're grateful to get it back and I'm just grateful to be back here in these colours and be playing footy.
"It'd be even better, though, if we could play finals.
"That's why I'm still playing and that's why I play."
Match: Knights v Wests Tigers
Round 19 -
home Team
Knights
9th Position
away Team
Wests Tigers
11th Position
Venue: McDonald Jones Stadium, Newcastle