Wests Tigers Head Coach Michael Maguire said he was proud of the way his side responded on Friday night after being asked to find another level following a run of tough defeats.
After a close but frustrating loss against the Canberra Raiders in Round 18 saw Wests Tigers slip well outside the top eight with only a handful of games remaining in the regular season, Maguire commented post-match about the need for his side to go deeper in their toughness and attitude to get their season back on track.
Trailing 12-0 inside the opening 10 minutes against a fired-up Knights side at home, Maguire didn't look like he was going to be getting the response he was after before a resilient and determined comeback from Wests Tigers saw them eventually lead at half-time and score two further second half tries to win 28-26 in the end.
Asked if he got the response he was after following his comments in the Canberra defeat, Maguire was emphatic in his response and praise of the team.
"Definitely," he said. "I've said publicly and to the group that there's a lot more in this group than what they believe, and I believe in them.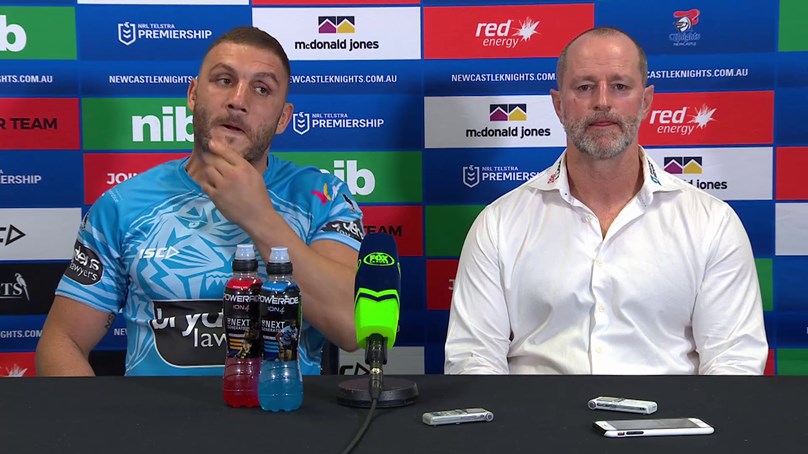 "I think the fact that the senior players really took control during the week played a big part in what they needed to do throughout that game.
"We knew that Newcastle were going to come out quick — we probably didn't handle that as well as we would have liked — but the resilience is always growing.
"It's one thing I can certainly see in this group."
Farah reflects on 300-game milestone

Despite winning just one of their past four matches, Friday's victory over Newcastle puts Wests Tigers back on equal points with the now eighth-placed Knights.
Maguire said a special run was certainly within the squad this year.
"I haven't changed my thoughts about this squad," Maguire enthused.
"It's why I challenged them in the way I did throughout the week, because I think there's a lot more in this group and I really do.
"I've been doing this coaching gig for a little while now and I see a lot of these players — the stronger they believe in themselves, the better they're going to be.
"That's the big piece that I'm trying to get these boys to understand.
"In a game like that, with so much going on around them, to be able to fight back... this group has shown that many times throughout the season. We've probably fallen short a couple of times but we've been very close too.
"If they continue to keep finding what they did there tonight, there's no reason why we can't go on and keep progressing forward in what we want to achieve.
"This group has a lot more left in them."
Wests Tigers will look to make it back-to-back wins when they take on the North Queensland Cowboys on Thursday night at Leichhardt Oval in Round 20.
Match: Wests Tigers v Cowboys
Round 20 -
Venue: Leichhardt Oval, Sydney