Wests Tigers five-eighth Benji Marshall is one of ten finalists in the running for the 2019 Phillips Sports Dad of the Year.
Wests Tigers Premiership Winner and Life Member John Skandalis won the honour back in 2009, so let's make sure another Wests Tigers star picks up the award!
This year's nominated Sports Dads will be profiled on sportsdads.com.au which will include questions and answers from the players about their families, as well as comments from the athletes' family.
All voters have the opportunity to win special prizes for their own father this Father's Day, with the winning Philips Sports Dad of the Year receiving $5,000 to donate to their charity of choice.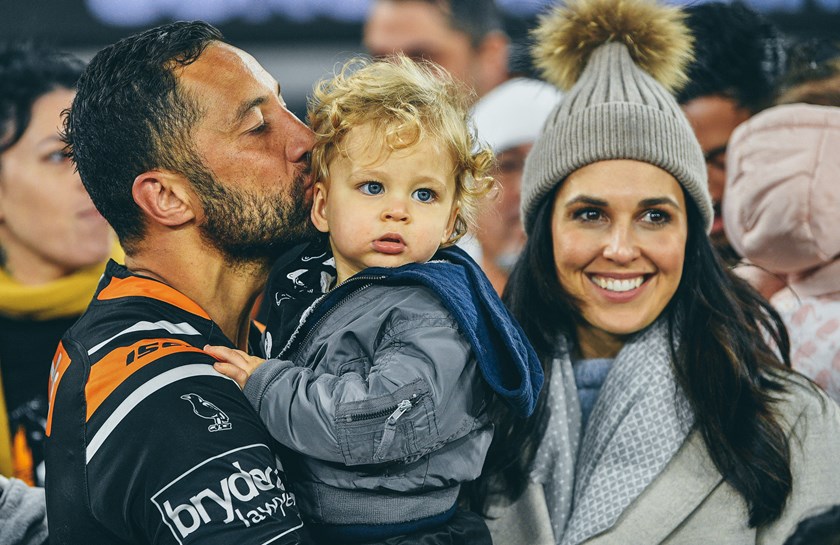 Q. How hard is it spending time away from the family during the season? 
A. It's getting harder and harder. Being away is the worst part of my job because I miss him so much. We FaceTime every day when he wakes up and every night before he goes to bed. It's awesome because he is really starting to communicate and interact, and we have such a great time together.


Q. At home do you still have a regular routine with Fox? 
Routine is something Zoe and I are big on. I enforce it a lot of the time. I have a lot of home duties, but my fav is bath time and bed time. I bath him every night and put him to bed every night. The cuddles just before sleep time are the best.


Q. What is your favourite activity with Fox?
A. I love bath time but we love getting out of the house together like going to our local cafe for a babyccino and coffee and because he is so social he loves talking and interacting with other people. We also both love guitar time where I just play guitar and we sing songs. He loves music.


Q. Do you have any memorable moments with Fox at this early stage? 
A. Yeah, of course. Some big ones are always firsts. Like when he first walked was an amazing memory... I actually cried! Also when he said mum for the first time, because he said dad first I felt bad so I said Mum every day to him a hundred times until he could say Mum. I'm obviously the fav though!


Q. What's the best part about being a dad?
A. Everything! I love all of it. Fox is by far the best thing that has ever happened to me.


Q. On game day, do you like to relax with the family or is there a set routine? 
A. When I am home on game day that preparation doesn't start until I leave home to drive to the game. Dad duties still have to be done no matter what day it is. Plus, I love it!


Q. Zoe, what's Benji's best asset as a dad? 
A. He does it all as well as look after me! When we are out in public or out at dinner, he looks after Fox. He's so proud of Fox and loves to push him in the pram and feed him. I'm beyond grateful for the breaks he gives me.