Following a Man of the Match performance in Round 1, Benji Marshall's teammates were full of praise for the ageless Kiwi playmaker as he leads the side in to Round 2 against the Knights.
The co-captain's starring role care as no shock to his fellow teammates as they explained his determination and persistence on the training field during pre-season.
Playing in an official game with the 35-year-old for the first time in Wests Tigers colours, new recruits Luciano and Joey Leilua said they were in awe of Marshall's composure and ability to take over the contest late in the game.
"Benji has been really good, he had a man of the match performance," Luciano said. 
"No-one here is surprised he's still got it — he still comes to training and does the freakiest things, but what he also does is get all of his one percenters done.
"I think his performance shows just how big our pre-season has been."
"I remember watching him and when you would do a step you would say 'I did the Benji'," laughed Joey. 
Wests Tigers youngster inspired by hero Benji
"It's great to see him still playing.
I love playing aside him and I think he loves me playing aside him too, so I don't have to run at him," he joked.
Playing in his club debut, Adam Doueihi noted how important Marshall's leadership was for the side with experienced playmakers Moses Mbye and Luke Brooks both not on field against the Dragons in Round 1.
"Playing with someone like Benji who's still got the level of skills he has it was just awesome," Doueihi said. "He was a childhood hero of mine so being on the pitch with him was awesome.
He's been in the game for over 17 years, he has a wealth of experience and he's really helping the younger boys comes through...

Adam Doueihi
"Since arriving here I've seen the stuff he does at training and not many people in the competition can do it.
"He's been in the game for over 17 years, he has a wealth of experience and he's really helping the younger boys comes through. He's a great leader to have around the club and to see him perform like that on the weekend is inspiring."
For Kiwi veteran Elijah Taylor — who has represented the Kiwis on numerous occasions alongside Marshall — it was still no less exciting.
"If you watch him train every week and every day, he's always pushing himself," Taylor said.
"It's not a fluke that he goes out and he does that on the weekend. He does that every day here at training, so I'm not surprised.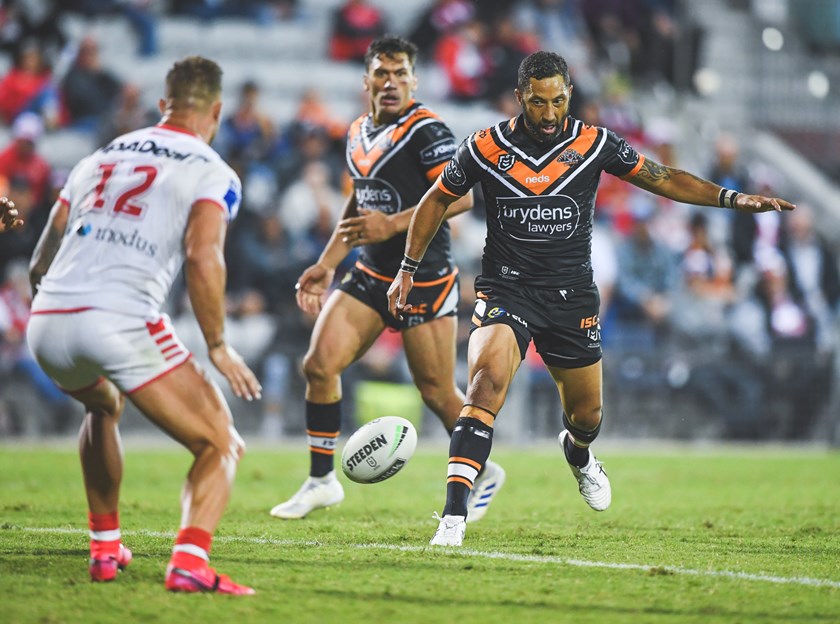 "He's such a professional and he's very thorough in his preparation. He's able to pull performances like that together and that's the leadership we need.
"He's a leader at this club and all of the boys respect him and look up to him,
"He was my hero growing up too, growing up in New Zealand. He was an idol to look up to and I know a lot of people can say the same thing. It's great just having him here interacting with our younger players coming through the Wests Tigers system and I know it's bringing out the best in all of us."
Marshall will captain Wests Tigers once again this Sunday against the Knights.
Match: Wests Tigers v Knights
Round 2 -
home Team
Wests Tigers
9th Position
away Team
Knights
2nd Position
Venue: Leichhardt Oval, Sydney