Wests Tigers forward Liam Fulton became one of the first professional athletes in Australia to retire due to concussion when he called it quits in 2014, but said it the idea wasn't even on his mind until listening to it being discussed on radio with his father.
After only just returning from injury, Fulton was helped from the field after suffering a concussion in Round 13 of the 2014 season.
It would turn out to be the final game in a stellar career that spanned over a decade, but it wasn't until afterwards that the affable forward would realise that moment would be his final on a rugby league field for Wests Tigers.
"I didn't know that I would make the decision then," Fulton recalled on the latest episode of the club's official Beyond the 80 Podcast.
"I remember hearing it on the radio with my Dad driving back to Sydney after the game. Someone was on there saying that I've had multiple concussions this year and I should be thinking about retirement.
"It was the furthest thing from my mind.
"I'd just taken a week or two off — I'd just come back from a bulging disk in my back — and it was my first game back that I'd got concussed."
Uncertain with the potential impact of what another head knock would do to his career, Fulton said it was a time of learning for himself and those around him.
"At the time, it was still new around concussions so when I came back it felt like I was under the microscope," he said. "Anything that happened to me was well-documented. I did a fair few tests with a doctor from Newcastle and then they sent me to Melbourne and I did a couple of tests down there.
"They didn't know a lot about exactly what it was but his advice to me was that if I get hit in the head again it could be catastrophic and that was the turning point.
"I didn't even read the reports because they were so long, but my wife would read them and she was adamant I shouldn't be playing anymore after what she read.
"At this point I still wanted to play but it was after I had just had my first child. The club and NRL were a bit scared [of what could happen to me if I kept playing] and basically said that they'll honour my contract and I'd work for the club but no longer in a playing capacity.
"I had to pull the plug, I didn't want to."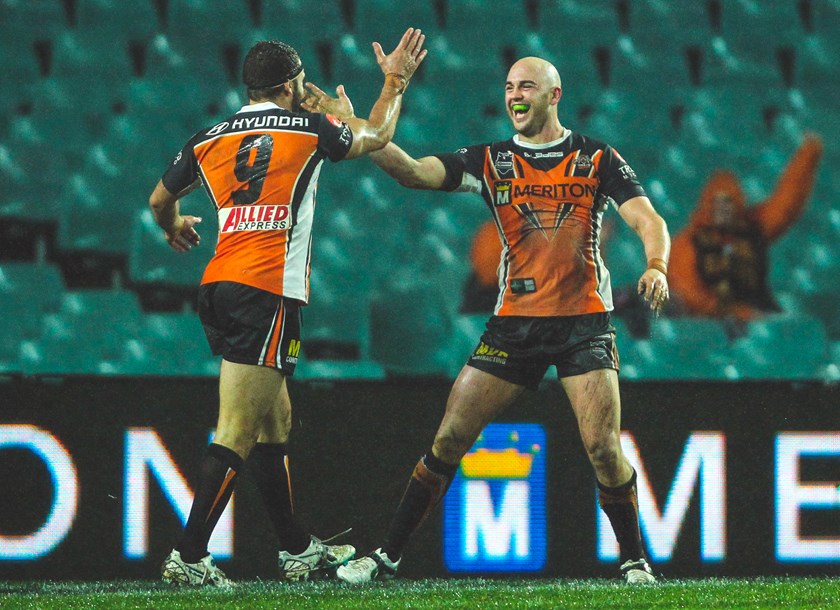 Having made his debut as a teenager and winning a Premiership shortly after, the prospect of a nine-to-five office job was certainly out of the comfort zone for Fulton, and it didn't take long for him to find where his true passion lay.
"I had to figure out what I wanted to do and I found out pretty quickly I wanted to be a broker," Fulton laughed. "So I began running my brokers office out of the Wests Tigers office at Concord. All my printing was done there.
"I did enjoy working there, but I did realise working in the office was not for me."
His teammate at the time and a long-time friend through their decade-plus of playing together, Robbie Farah was full of praise for Fulton for his career and the way he carried himself as a teammate off the field.
"People ask me all the time about who the best players I've played with are — and there's different reasons about what makes someone great — but Liam was probably one of the toughest guys I've played with," Farah enthused.
He doesn't look like a footy player, but you put him on a footy field and he's one of the toughest...

Robbie Farah on Liam Fulton
"In all honestly, we make fun of Fulton's body — he doesn't look like a footy player, but you put him on a footy field and he's one of the toughest.
"We had a little combination on the field because he's actually quite smart. We formed a little combination; we had a play called bread-and-butter which was a little run-around.
"I knew what he was thinking, and he knew what I was thinking and that's awesome to have in a teammate."