Wests Tigers fullback Corey Thompson became the latest player to pick their rugby league dream team on the club's official Beyond the 80 Podcast... and it's a side certainly worthy of any competition.
Speaking on the club's Beyond the 80 Podcast, Thompson took part in a segment called "You're the Coach" where players have to pick their top six players in a raft of different positions — fullback, centre/wing, five-eighth/halfback, second row, front row and hooker — to put together a star-studded side.
A position he's well versed in himself, Thompson went for the New Zealand Warriors captain Roger Tuivasa-Sheck as the fullback in his side.
"I'll take Tuivasa-Sheck," Thompson said.
"I like the effort he brings when he plays. He's very skilful in the things that maybe fans won't see or won't pick up that's not in the stat-sheet. He's really good at those one percent areas."
Another position he's familiar with from his time at the Bulldogs and Widnes before joining Wests Tigers, Thompson opted for Melbourne Storm flyer Josh Addo-Carr as his outside back — continuing the speed-based theme for his side.
"I'm taking Addo-Carr there because he's got serious speed," he said.
"I've marked him before as a winger and you have to be on your toes the whole game. You need to read what he's going to do before it happens to give you that little head start. If you take your mind off it and they kick it behind you, he'll run straight past you."
Will a shorter 2020 season mean Marshall plays on in 2021?
After picking two speed demons in his outside backs, Thompson again went a little left-of-centre with his playmaker — going for a more natural runner of the ball again in Sydney Roosters five-eighth Luke Keary.
"I'll put in Luke Keary for a bit of control for the team," he said.
"You obviously have speed in Roger and Josh... so Luke would add some control in the game. He has a good kicking game and can set up for the two I've already picked."
After quickly selecting North Queensland Cowboys forward Jason Taumalolo as his front-row forward, Thompson went for a point-of-difference in his back row — picking out Wests Tigers teammate Luke Garner to join the star-studded side.
"I'm going to throw one of our own in there in Luke Garner," Thompson enthused. "Just with his running... I don't think people understand how good he is running off Luke Brooks. He can skip overs, get a good short ball and he's great at offloads.
"I've scored a couple of tries off him following on the inside and I think he'd work well with the boys I've already chosen in the side."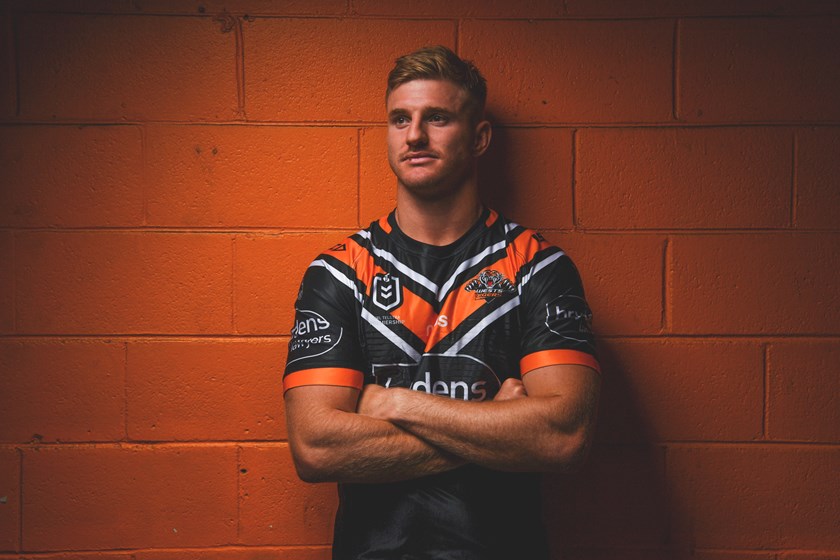 With one spot to fill, Australian hooker Damien Cook — who Thompson played with at the Bulldogs in both reserve-grade and first-grade — was Thompson's choice.
"I'll have to put Damien Cook in," Thompson said. "With Taumalolo there, he'll get the quick play-the-ball's in and that's just gold for him.
"Keary and Cook working together on the ruck would be a good combination."
Subscribe to the latest episode of the Beyond the 80 Podcast to hear from your favourite players and professionals in the game! The latest show — available now on iTunes and Spotify — sees Thompson open up about what it's been like being back at training and the range of protocols the boys have to go through each day, while renowned journalist Emma Lawrence also runs through all the latest news!