Wests Tigers Coach Michael Maguire says the competition for spots is heating up at training as players eye off a spot in the final 17 when the competition returns in a fortnight's time.
With no Canterbury Cup or Jersey Flegg in operation this season as a result of COVID-19, the competition for spots in the side has never been higher — something Maguire said was a big positive for his team to embrace moving forward.
"It's great to have those selection issues," Maguire enthused.
"It's one of those things I really enjoy as a coach is giving my players the right messages about what they need to do to be selected, and that's what we're doing at this present moment.
"I've got some good decisions to be made moving forward, and you can see that right across the team.
"We need to improve — we know where we've been — and it's about moving forward with guys that are going to do all the little things that we hold high as the standards of our club."
It's about moving forward with guys that are going to do all the little things that we hold high as the standards of our club

Michael Maguire

Wests Tigers Coach
Having both spent time in the number one jersey throughout the first two rounds, Maguire gave an insight in to the fullback battle between Corey Thompson and Adam Doueihi, with the latter shaping as the likely custodian.
"At the moment, I'm looking to go towards Adam," Maguire admitted.
"Corey's done a great job for us but Adam himself has really pushed his way in to that position.
"It's still open but I want to see where Adam can take us as a fullback — that's part of the reason why I signed him. Corey is so competitive that he can slip there on the wing if need be. That gives me some great options moving forward... but my biggest focus — and it's the same for our players too at — is that we're ready to go.
"As I've said, we've got a lot in our game to improve on."
Another position of contention at Wests Tigers will be the number nine jumper, with new recruit Harry Grant also set to feature prominently in the season ahead after transitioning to the club well from the Melbourne Storm.
"One thing I've spoken about a lot with this process of getting Harry is that playing hooker is a bit of an art," Maguire said. "It's about ruck speed and grabbing markers and rolling your forwards on to the ball, and when you've been doing that in the position for all of your career it's just a natural part of the habits.
Harry Grant joins Wests Tigers
"Harry has definitely got that and he's been behind someone at the top of his game in Cameron Smith as well as Brandon Smith too.
"I'd imagine the competition in around that space — which he's been under — has created some really good habits in that position and that will really help him moving forward. It's what every young player wants; you want to be taught by the greats of the game so you understand exactly what you need to do in moments within a game.
"He's pushing really hard for that dummy half spot — he's doing really well."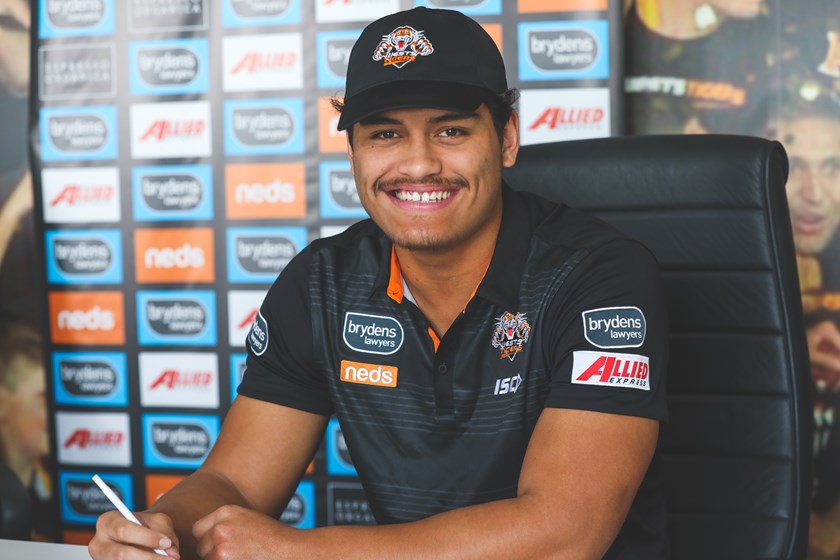 The recent signing of Shawn Blore completes Wests Tigers top-30 squad for the 2020 season, with Maguire full of praise for the former Panther's potential and ability to be a long-term forward for Wests Tigers in the years to come.
"We'll manage him through at moment coming back from injury," Maguire said.
"One thing I do know about knees is that you've got to manage them through. He'll have some challenges in those early days, no doubt, but one thing about Shawn is that he's got some really good size and he's shown a little bit on the field in the last few days that he's definitely going to be a player for the future.
"That's the reasons why I worked hard to make sure he wanted to come to our club.
"He's got a good head on him with his leadership; I always look to recruit good characters and that's something I want to build in the club."