His arrival at Wests Tigers has attracted plenty of headlines and interest, but new recruit Harry Grant is under no illusions about the hard work that lies ahead of him to establish himself in the NRL.
Talked up as one of the brightest young prospects in the game, the 22-year-old Grant looks likely to play a big role at his new club this year after attracting high praise from Coach Michael Maguire in recent weeks, but says his focus for the year ahead is simply on firmly establishing himself in the top grade.
"I have to prove myself in the NRL," Grant said. "That's the focus.
"I've only played a handful of games so far [so] I'm keen to prove myself and hopefully earn the respect of my teammates and coaches.
"I've just been sticking to what works for me — I think every player in the NRL tries to find their strengths and plays to them. With all the help I've had from players and coaches, it's about now trying to fine-tune and practice my game more at training. I've been using my time wisely when I have the opportunity."
Potentially overwhelmed by the thought of being such a rising prospect in the game, the level-headed Yeppoon Seagulls junior said he was simple just trying to make the most of the opportunities that come his way in rugby league.
"If you told me ten years ago that I'd be learning a fair bit off Cameron Smith and then playing in a number nine jersey at Wests Tigers that was made famous by Robbie, then I'd have been a pretty happy kid," Grant enthused.
"It's special for me that I've had all these opportunities growing up this far.
"I've just got to make the most of it and play some footy.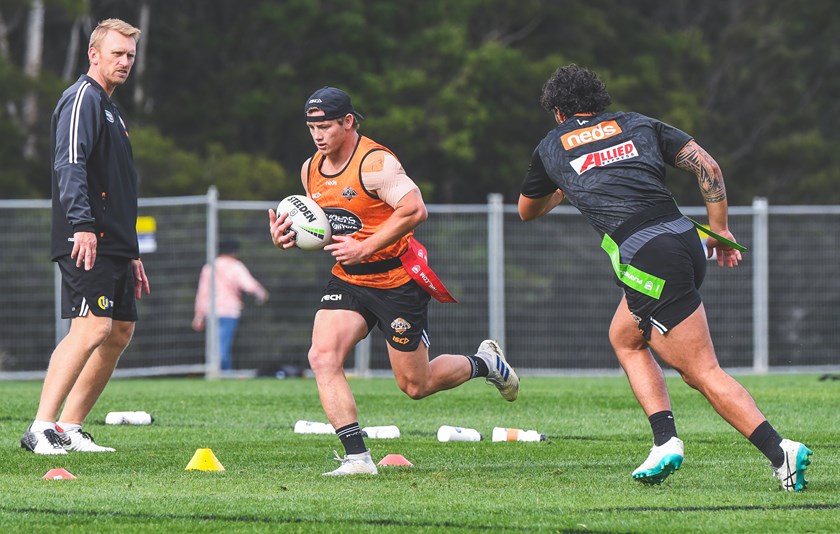 "I've thoroughly enjoyed my time here so far at Wests Tigers," he added.
"I've learnt a lot of little things around my game that I probably wouldn't have built or added to my game otherwise. At a personal level, it's also been really great for me because I'm coming in to a new environment and playing a different style of footy and you really have to work hard to build those relationships."
"I've been lucky to have this break and have a bit of time off to build the relationships and get used to the style of play Wests Tigers are looking for from me."
Match: Sharks v Wests Tigers
Round 3 -
home Team
Sharks
13th Position
away Team
Wests Tigers
7th Position
Venue: CommBank Stadium, Sydney