Wests Tigers Head Coach Michael Maguire said it was a disappointing start to Friday's game against South Sydney that never really left his side with much of a chance to fight back in the contest.
Down 10-0 at the break and 18-0 midway through the second half before two late tries reduced the margin to ten points in the end, Maguire's men continued to fight hard and toil away against the cardinal and myrtle with unquestionable effort.
But their execution and handling didn't do them any favours, with the Premiership-winning Coach pointing out what needs improving moving forward.
"We put a lot of pressure on ourselves in the first half and you've got credit to Souths because they obviously put the pressure back on us," said Maguire.
"We didn't take our opportunities in the second half so it's very disappointing.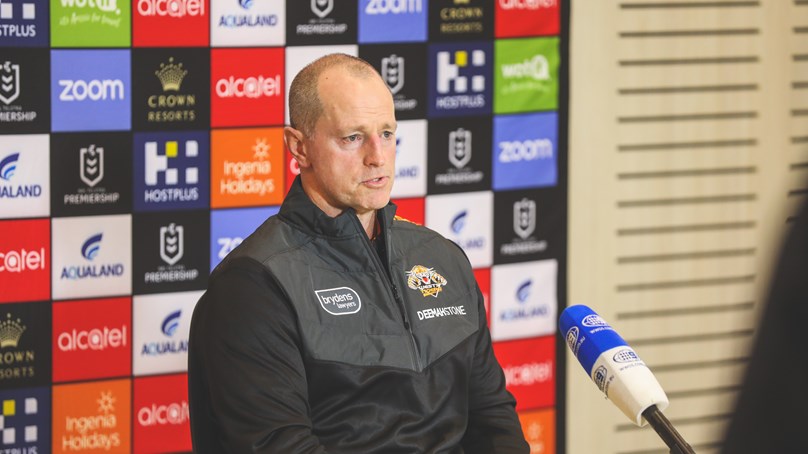 "It's all about field position.
I don't think we got down to their 20m properly in the second half. If you can't do that then you can't get your plays on. You can still form your attack from a distance from the try-line but we weren't doing that either.
"That will be the things I'll be looking at this week."
2020 Match Highlights: Rd.9, Rabbitohs vs. Wests Tigers
Introducing co-captain Benji Marshall with 30 minutes remaining was a key move to help steer the direction of the squad, with Wests Tigers sparking in to attack.
"We introduced Benji with 30 minutes to go to steer us in the back end of the game," said Maguire.
"It's something we've been lacking the past couple of weeks.
"But we need to make sure we find field position and every individual needs to turn up and do their part for the team.
Grant sends Aloiai barging over
"Throughout the game I thought there were lapses while we were under too much pressure."
"But in all of that, the game was there at the back end and unfortunately we scored a try and then the ball hits the ground and Souths get it ball back," he added.
"That was the moment there that swings games.
"It's always down to the wire... and that's what I'm trying to build here.
"No matter what the circumstance you need to rise above to take the next opportunity."
Match: Rabbitohs v Wests Tigers
Round 9 -
home Team
Rabbitohs
6th Position
away Team
Wests Tigers
8th Position
Venue: CommBank Stadium, Sydney