There was no hiding the pride from Wests Tigers Coach Michael Maguire post-match after his side's gutsy effort against the Eels.
Despite a tough battle and a 26-16 defeat, Maguire was extremely proud of his side's efforts and was positive about their performance improvement each week.
"As much as we don't like falling short, I was really proud of the team tonight," Maguire enthused.
"They represented the Wests Tigers jersey really well.
"There was a lot going on in that game; at one stage I had no one on the bench. We had a few getting patched up or working out if they were in the centres or in the middle... I was proud of the group.
"Those sorts or games are the ones the boys are learning how to play now.
"They're a tough team and to be able to fight to the end and still be fighting the way in the way they had is what the jersey is all about."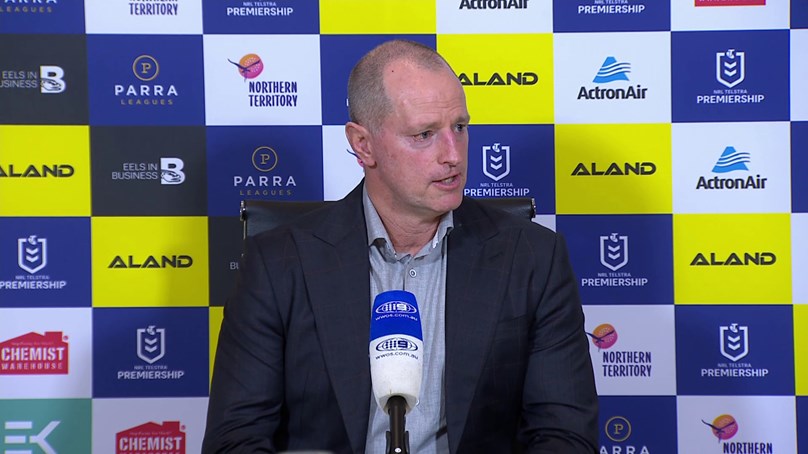 With multiple head knocks and injuries there were times Maguire needed to react quickly to how to organise his squad with limited use of the bench.
The playing squad adapted and made it their responsibility to put in that extra effort, Maguire explained.
"The effort they put in there tonight – I was really proud of the way they went about things," said Maguire.
Shawn Blore to make NRL debut
"They're a tough team and they showed the toughness that we're working towards. We just need to keep putting that amount of effort in and things will start swinging the way we want them."
NRL debutant Shawn Blore, had an outstanding first game in first-grade.
"It was good to see Shawn — I don't think he's played a proper game of rugby league in 14 months," said Maguire.
"To see a young fella to come out and play the way he did it was a great welcome to first grade. He played a lot of time too and I wasn't expecting that.
"He is strong and showed that he can play at this level now and I'm looking forward to seeing him push for an opportunity again."
Wests Tigers forward Michael Chee Kam was stretched from the field in the 27th minute with Coach providing a quick update on his recovery.
"He's gone to hospital to get checked up but he's ok," said Maguire.
"It's not nice having one of your players in that position.
"Chee Kam is a great character and the players are really fond of him too. They were all concerned there but it's nice to know he's ok."