Wests Tigers are excited to have hit the 15,000 Member mark for the 2021 season.
Having reached the milestone mark in early February, Wests Tigers now has its sights on the club's Membership record of 20,739.
Now is the perfect time to sign up as a Wests Tigers Member with the club launching the #ShowYourStripes game day campaign – a movement that encourages Members of all ages to proudly display their love and commitment to the club by showing their stripes loud and proud with their 2021 Members scarf.
Every home game, Wests Tigers Members will have the chance to show their support as the players run out — rising as one as the team enters the field and proudly holding their scarf above their head.
#ShowYourStripes by showing your scarf
With a number of key new recruits joining the club, including James Tamou, James Roberts and Joe Ofahengaue, there are plenty of reasons to be excited for the season ahead.
Starting at just $59, Wests Tigers' 2021 Membership range is as extensive as ever with options to suit all budgets and needs from the popular Supporter Plus Membership right through to the Ultimate Membership.
There is a host of different ticketed options for single and dual venue packages, as well as full season, with added focus on Family Memberships for each of the club's various home grounds throughout the year.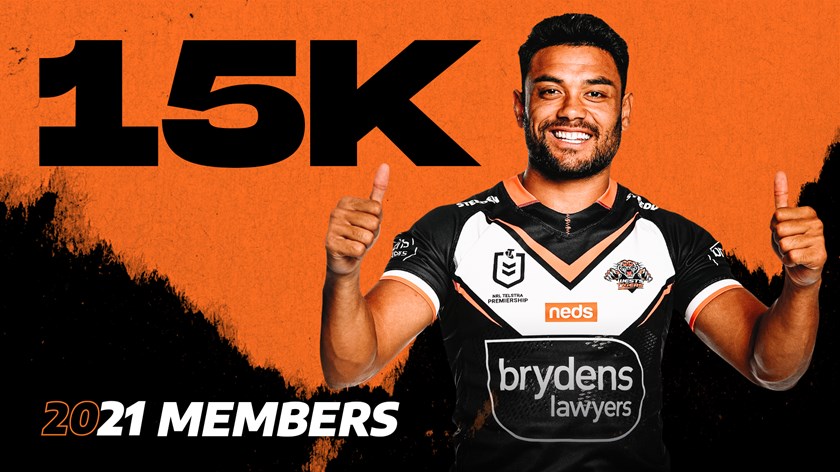 The club will again be offering merchandise discounts and vouchers that can be redeemed through all Roarstore outlets (online, in-store and at games), while also including a hat, scarf, keyring, bumper sticker and lanyard in all adult packs. Junior Wests Tigers Members will receive a lanyard, bumper sticker, cap, drawstring bag, pencil case and cape flag as part of the package, as well as access to Timmy the Tiger Junior Member Clinic
Members also have exclusive access to all official news from the club — delivered right to your inbox, so you always know about what's happening with your team!
If you're not a Member yet, now is the perfect time to sign up and be a part of something truly special for the years to come.
The club appreciates the support of all our current Members through a challenging 12 months.
Click here to join Wests Tigers as a Member to show your stripes!