Follow all the action from today's trial matches from Kirkham Oval!
Refresh this page for live updates throughout the evening. 

FULL TIME: Sydney Roosters 28 def. Wests Tigers 22
Wests Tigers have started their 2021 campaign with a 26-22 loss to Sydney Roosters in a trial at Kirkham Oval.
The match was headed for a draw before Roosters youngster Naufahu Whyte crossed in the final minutes.
Sydney Roosters had led by six points after Ben Thomas scored with 27 minutes left in the match.
Alex Seyfarth scored with a few minutes before the break to lock the scores at 12-all. Sydney Roosters were leading after 20 minutes when Ronald Volkman scored following a swift chip-and-chase in the lead-up. 
New recruit Tuki Simpkins has scored his first try in Wests Tigers colours to level the scores after 10 minutes. Roosters youngster Sione Hopoate scored the opening try of the match.
FINAL TEAM CONFIRMED
Wests Tigers Head Coach Michael Maguire has confirmed his line-up for tonight's trial match against Sydney Roosters.
Wests Tigers NRL team are as follows —1. Tyronne Roberts-Davis 2. Zac Cini 3. Reece Hoffman 4. Tommy Talau 5. Allan Fitzgibbon 6. Daine Laurie 7. Jock Madden 8. Alex Seyfarth 9. Jake Simpkin 10. Stefano Utoikamanu 11. Michael Chee Kam 12. Kelma Tuilagi 13. Tuki Simpkins  Interchange: 14. Jacob Liddle 15. Kiah Cooper 16. Tyler Field 17. Ky Rodwell 18. Zach Dockar-Clay 19. Edenn Rogers-Smith 20. Iverson Fuatiamu 21. Joe Taipari 22. William Kei 24. Logen Dillon 25. Israel Ogden 26. Curtis Wilson 27. Liam Scolari 28. Austin Dias 29. Regan Hughes 30. Semisi Kioa 31. Etuale Lui 32. Mavoni Tuifua 33. Daniel Sykes 34. Billy Stapleton
FULL TIME JERSEY FLEGG: Wests Tigers 24 def. Canberra Raiders 8
Wests Tigers Jersey Flegg side has kicked off 2021 with an impressive 24-8 win against Canberra Raiders in a trial match at Kirkham Oval.
It was a strong start for the Canberra Raiders, who spread the ball well to both edges inside the opening 10 minutes to score two quick tries. However, Wests Tigers took control of the match, scoring four late tries to secure the win.
Wests Tigers Jersey Flegg are as follows — Timana Alexander, Reggie Alofipo, Logen Dillon, Iverson Fuatimau, Ryan Garner, Jordan Hill, Kade Hill, Ceiza James, Sam Kamu, Harry Larkin, Elifasa Leilua, Ej Lui, Tino Lui, Brandon Mansfield, Tony Maroun, Micah Marsh, Eli Morgan, Logan Muir, Rua Ngati, Israel Ogden, Tyran Ott, Aden Perry, Joshua Rizk, Liam Scolari, Felix Smith, Matt Smith, Ben Stevanovic, Hayden Sutton, Daniel Sykes, Floyd Tighe, Mavoni Tuifua, Sione Tupou.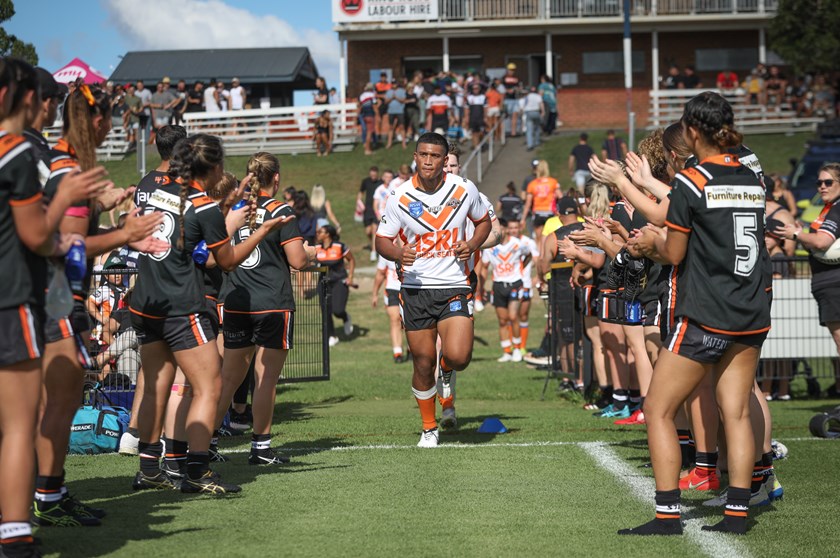 FULL TIME: Helensburgh Tigers 20 def. Wests Tigers 10
Wests Tigers have gone down to Helensburgh in the first trial match of the day. Our women fought back strong in the second half but just fell short. 
A dominant start from Helensburgh, led by Jillaroos star Kezie Apps. Sophie Curtain got the first four-pointer of the year for Wests Tigers with the home side made to a mountain of defence inside the opening 30 minutes of the match.
Helensburgh were first to score in the second half before Wests Tigers hit back through Ashlee Makim with 14 minutes left. 
Wests Tigers Women are as follows — Awhina Akuhata, Sarah Boyle, Jemma Crane, Emily Curtain, Sophie Curtain, Shekinah Edwards, Ana Fekeila, Jaysharna Houia, Christine Kani, Josie Lenaz, Jasmine Lepua, Mardi Longford, Jeorgia Lotoaniu, Ashlee Makim, Mereana McManus-Ta'ase, Rebecca Mose, Taylor Osborne, Rebecca Pollard, Teuila Pritchard, Ana-Lise Sio, Lakeisha Tipene, Teagan Toa Toa, Stephanie Wilson.