Wests Tigers will run out on Scully Park full of confidence after their last start demolition of the Sea Eagles took the side's winning run to three in a row.
They'll look to make it four straight victories at 5:30pm today when they take on the Newcastle Knights — a fixture that has no doubt attracted a lot more attention this week than first thought given the surprising success both teams have had so far in 2018. After a difficult start to the year in terms of opponents, today's game will be the first time Ivan Cleary's side face off against a team that didn't finish in the top eight last season, with the chance to make it three consecutive wins over the Novacastrians.
With a number of key player changes for both sides today, it's shaping as a very intriguing matchup indeed at Scully Park with several big storylines to keep an eye on...
1. Will the attack fire once again?
While defence has been the hallmark of the season so far for Wests Tigers, Cleary's men flexed their attacking muscle against the Sea Eagles with arguably their most dominant result of the year — a 38-12 victory that saw the likes of Luke Brooks and Benji Marshall really starting to hit their straps. The question now is whether that attacking fluency will come to the fore this afternoon too, or whether we'll be in for a more grinding performance that has been the norm so far in 2018. Newcastle are coming off a loss to the Melbourne Storm that saw them leak 40 points so there's every chance that the points could flow again, but the key in making that happen is no doubt possession. Just as the Storm's big win was built with the ball, Wests Tigers' 26-point lead at half-time last week came off the back of 80% possession in the first half — meaning the ability to force repeat sets is the key for both Brooks and Marshall again this afternoon. 
2. How will the team handle favouritism?
Despite sitting inside the top four on the ladder and somewhat unlucky to have conceded a single defeat this year, Wests Tigers will remarkably start today's game as favourites for the first time this season. That shouldn't mean much, and we're sure it won't to Cleary (who is incredibly grounded and calm all the time), but it's still an interesting storyline to consider today as to whether any complacency will start to develop. In recent years, Wests Tigers have struggled in games that they were deemed destined "to win", but it looks like this team has started turning the corner in that regard with renewed consistency and discipline in all aspects of the game. If they are to get the job done today, they'll need to be very good in both those departments once again.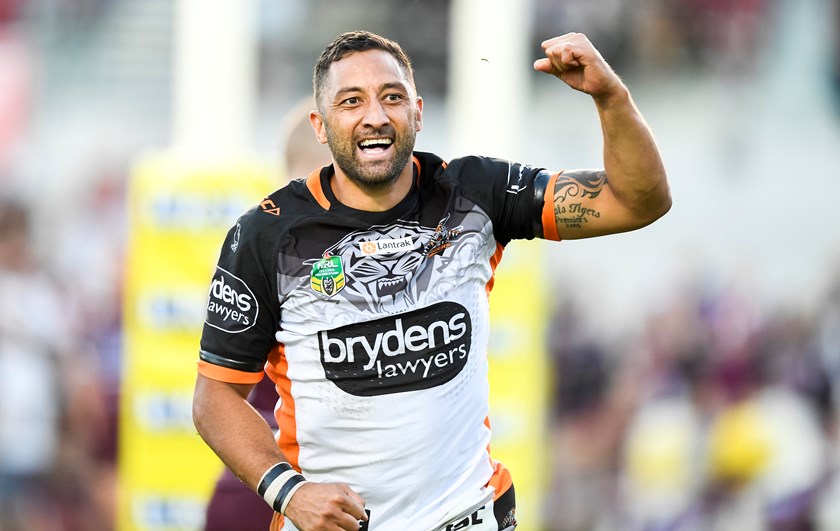 3. What impact will Elijah Taylor have on return?
It's hard to believe that Wests Tigers have played the last month without inspirational co-captain Elijah Taylor given the enormous work load that the Kiwi international gets through in both attack and defence, but such is the depth in the squad at the moment that it's somewhat gone unnoticed. Taylor's return this week from his hamstring injury is a huge boost for the side, and a timely one at that with Chris Lawrence ruled out. What will be interesting to see is how much the inclusion of Taylor helps create space for both Brooks and Marshall to run the ball, as they did so well against Manly last week. Taylor's ability to jump in at first receiver and either play short or out the back to the halves is one of his greatest assets, and will certainly help out Wests Tigers in their attack today.
Press Conference: Elijah Taylor
4. Can Kalyn Ponga be stopped?
That's the question that every rugby league fan is asking when seeing Kalyn Ponga in the opposition lineup, and the fleet footed fullback is certainly the danger man for Wests Tigers to watch for today. Ponga's playmaking almost entirely down the left edge has been deadly through the opening six weeks of the season, and the right edge defence of Wests Tigers (which we'll touch on more soon) definitely have their work cut out trying to stop him from breaking open the defensive line today. The key for the likes of Esan Marsters, Marshall and Robbie Rochow will be taking time away from Ponga to make his decisions in attack and forcing him in to throwing it long with their up-and-in defence — hopefully in to the arms of a waiting David Nofoaluma for one of his intercept tries!
5. Whose right edge defence holds up best?
We touched on this briefly in the Crownbet Match Preview this week  but the right edge defence of both sides holds the key to today's result; whichever unit can contain their opponent's left edge attack will give their side a huge advantage. Newcastle have scored nine of their 15 tries down the left edge this season, while conceding a whopping 25 tries themselves down the right — numbers that make for fascinating reading and certainly something to consider given the success that Brooks and the Wests Tigers' left edge attack had over the last fortnight against both the Storm and Sea Eagles. Whether they can repeat the process today against the Knights today still remains to be seen...