When Life Member Robbie Farah confirmed his return to Wests Tigers, there was no hiding his excitement to run out alongside Benji Marshall once again.
Having played their final game together in Round 26 of the 2013 season, the opportunity for the club's inaugural Life Members to link up was becoming more and more unlikely as the years wore on.
Both had changed clubs and by the time Wests Tigers had confirmed Marshall's return to Wests Tigers in 2018, Farah was seemingly locked in to a strong South Sydney squad that was gunning for a top-four finish.
A flurry of text messages prior to the June 30 deadline changed all that, and despite the former Kiwi international sitting on the sidelines with a calf injury, Marshall and Farah were incredibly close to playing together — in the colours they have each become synonymous with — once again.
At he reflected on his return, the 34-year-old Farah spoke of what it meant to be back alongside Marshall.
"Benji is such a big part of my attachment to this club and that never changed," Farah said.
"He moved on a few years ago: first to the Auckland Blues and then to the Dragons and Broncos, and our careers kind of went down separate paths. But to get back here and play together and have the opportunity to finish our careers together is a little bit poetic and I've got goosebumps just thinking about it. 
"We grew up together and starting playing our careers together here and it'd be nice to finish together."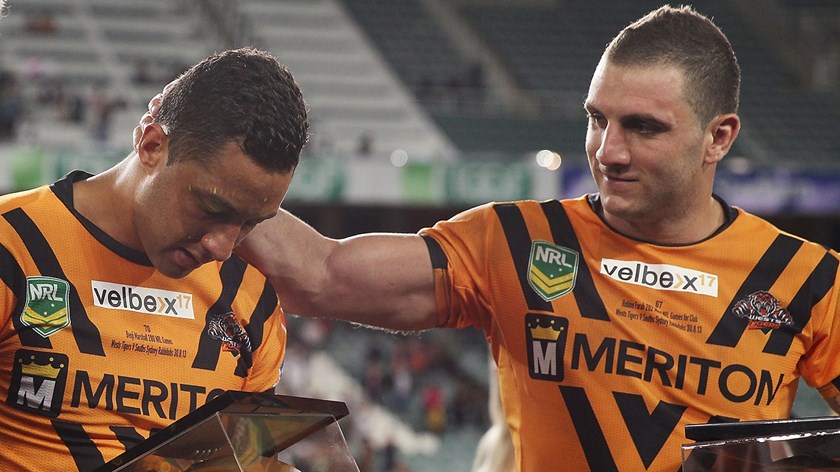 Just under five years after a night in Townsville more remembered for Matt Bowen's farewell than anything else, Farah and Marshall will once again run out on Sunday together as they take on the Dragons.
As Farah said, it's poetic — his 249th first-grade game for the club against the colours Marshall once wore.
A storyline 1,772 days in the making.
And yet, as poetic and special as it is, both Farah and Marshall know their reunion will count for little if it doesn't help Wests Tigers bounce back from a four-game losing streak to keep their finals hopes alive.
The pair know the stakes — particularly after a tough loss to the Gold Coast Titans prior to the bye — and with just eight weeks remaining in the regular season, wins are a must over the final third of the year.
"You know, the club didn't get me back because of the feel-good story," Farah told NRL.com.
"It's not just a publicity stunt.
"That gets lost in it all with everyone saying 'Robbie is back, it's a great story'.
"What will be an even better story is if we make the semis.
"They didn't get me back to sell a few tickets or make me feel better about myself. I'm here because they want to win and I want to help them win. By coming back and winning games and making the semis, maybe no one will remember those hard times, just a good ending."
Wests Tigers take on the Dragons this Sunday, July 15 with kickoff at 4:10pm AEST (Ch.9, FOX).


Match: Dragons v Wests Tigers
Round 18 -