Wests Tigers received a huge boost on Tuesday with Benji Marshall named to start at five-eighth for his side's must-win game against the Canberra Raiders.
Marshall's influence on the side has been easy to see this season; his combination with Luke Brooks has seen Ivan Cleary's side knock off a number of competition heavyweights throughout the year and his absence once leaving the field with a calf injury last week against Newcastle was certainly noticeable.
Yet while the Life Member's inclusion is a huge boost for the chances of Wests Tigers, it's also given the team a positive they might not be as conscious of — his incredible record against the Raiders.
In his 285-game career to date, Marshall has faced off against the Raiders 18 times for 17 wins.
At GIO Stadium (formerly Bruce Stadium), Marshall has never lost with a perfect nine-from-nine record.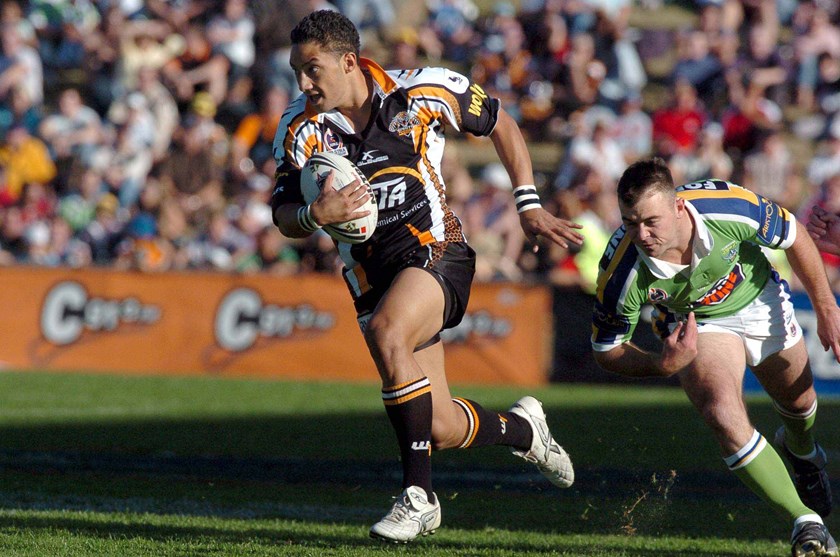 Not only is it an incredible head-to-head record, it's also clear that the 33-year-old enjoys facing the Green Machine more than most other team having scored 110 points (5 tries, 44 goals, 2 field goals) against them.
Only against the North Queensland Cowboys has he scored more (112 points) but in eight less games.
Benji's remarkable run against the Raiders began in 2004 when he scored a try in a 26-12 win in Round 10, before also crossing for a try in his second game against the Raiders in 2005. He was instrumental in the second matchup against Canberra later that year as well — helping Wests Tigers fight back from 14-0 down at half-time to win the game 22-14 and continue their memorable streak in to the 2005 Finals Series.
What's perhaps most incredible about the record is that the streak stayed in tact despite Marshall changing clubs. While at the St. George-Illawarra Dragons, Marshall picked up four wins over Canberra in 2014, 2015 and 2016 while last year at the Brisbane Broncos, he was also part of a thrilling 30-20 victory.
The 33-year-old's lone loss to the Raiders came in Round 4 of the 2012 season when a Wests Tigers side that started the game with a different fullback, halfback and hooker went down 30-16 at Campbelltown.
Marshall missed the matchup between the two sides earlier this year at Campbelltown when Canberra fought back from a 12-4 deficit early to pile on the points and emerge with a convincing 48-12 victory.
His Wests Tigers teammates will certainly be hoping that his inclusion this week proves the lucky charm!
MARSHALL'S REMARKABLE RAIDERS RECORD
2004, Round 10 — Wests Tigers 26 def. Canberra Raiders 12 (Tries: 1)
2005, Round 11 — Wests Tigers 28 def. Canberra Raiders 16 (Tries: 1)
2005, Round 22 — Wests Tigers 22 def. Canberra Raiders 14
2009, Round 1 — Wests Tigers 34 def. Canberra Raiders 26 (Goals: 5/6)
2009, Round 20 — Wests Tigers 25 def. Canberra Raiders 4 (Goals: 4/4)
2010, Round 4 — Wests Tigers 35 def. Canberra Raiders 22 (Tries: 1, Goals: 5/7)
2010, Round 15 — Wests Tigers 18 def. Canberra Raiders 8 (Goals: 3/3)
2010, Semi Final — Wests Tigers 28 def. Canberra Raiders 24 (Goals: 4/4)
2011, Round 3 — Wests Tigers 34 def. Canberra Raiders 24 (Goals: 5/8)
2011, Round 8 — Wests Tigers 49 def. Canberra Raiders 12 (Tries: 1/1, Goals: 7/7, Field Goals: 1/1)
2012, Round 13 — Wests Tigers 40 def. Canberra Raiders 0 (Goals: 6/8)
2013, Round 15 — Wests Tigers 17 def. Canberra Raiders 12 (Goals: 2/4, Field Goals: 1/1)
2014, Round 23 — St. George-Illawarra Dragons 34 def. Canberra Raiders 16
2015, Round 3 — St. George-Illawarra Dragons 22 def. Canberra Raiders 20 
2015, Round 10 — St. George-Illawarra Dragons 32 def. Canberra Raiders 18 (Tries: 1/1)
2016, Round 10 — St. George-Illawarra Dragons 16 def. Canberra Raiders 12
2017, Round 16 — Brisbane Broncos 30 def. Canberra Raiders 20