Wests Tigers Head Coach Michael Maguire said ongoing contract speculation wouldn't be a distraction for his side as they look to end a run of three straight defeats this Friday when they take on the North Queensland Cowboys in Townsville.
With Wests Tigers heavily linked to a move for Kiwis captain Dallin Watene-Zelezniak as well as Parramatta Eels forward Tim Mannah, Maguire said contract discussions with his players were always ongoing — as per usual — as the team looks to move forward and back in to the top eight after three losses in a row.
"I'm always talking to my players and they can always come and chat with me about where they're at," Maguire said.
"People talk about players coming and going, and we've got a spare spot in our top 30 so it's given us a bit of an opportunity to look around.
"You'll always have discussions around your [playing] list but, at the end of the day, we're talking about boys that have contracts. They have their contract with the club while some players come off contract — that's the arena that we live in.
"My job is to make sure they turn up every week.
"The things around signings will all sort themselves out in the background; my focus is about what we need to do this week. The truth is we've got to turn around where we've been and it's a really important game for us this week against the Cowboys.
"We know that if they [the players] put themselves in a good position and put ourselves back in the top eight then all of this chatter goes away."
Press Conference: Ben Matulino

Maguire said he wasn't annoyed by Watene-Zelezniak as "the one that got away" after the Kiwis captain signed with the Canterbury-Bankstown Bulldogs, but said his addition to the roster would have been one to strengthen the side in 2019.
"Dallin would have been nice to have because of my relationship with him and I know what he's capable of," Maguire admitted. "But we'll just look to continue to improve the team moving forward — that's my job, to improve the team.
"When you've got a spot available in the squad, you're going to do try and do that."
With 29 players currently signed in the squad, Wests Tigers need to add another player before the June 30 deadline in order to be salary cap compliant — a position opened up by Zane Musgrove's departure from the club.
The man tipped to fill that spot, Parramatta's Tim Mannah, fits the bill as Maguire looks to replace the front rower's absence from the squad with another prop.
"At the start of the year, we had a front-rower there [in Zane] but it wasn't to be so that spot [in the squad] is available for a front-rower," he explained.
"We've still got a lot of footy to be played and we're looking to progress ourselves in to that finals series like every team so we've got to make sure we build the right depth across the team.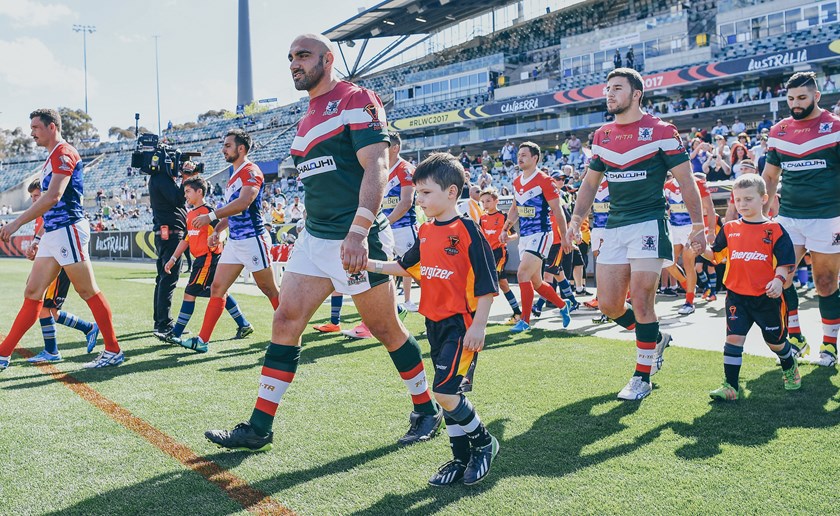 "For us, the front-rower is what is available for us to fill.
"At the moment, it's up to Parramatta [with Tim]. Bringing Tim would be handy because of the availability of the spot in that we're looking for a front-rower, but I think he's in the process of dealing with what he needs to from his end.
"I think everyone knows what he will bring — good go-forward, good person, good leader and a lot of those things that you want to build with the cultural aspects of your team.
"But it's also the experience he can bring for the younger kids coming through. I've got a few young ones that aren't quite ready for first-grade, which means it's handy to find someone like Tim who can help out the younger boys but also add something to the team.
"The whole reason why we'd want him to come is to work our way up because we want to play finals like everyone else, and that starts for us again this weekend.
"The way I see this team grow and evolve is some of the highest standards where I've been, and I know that if they continue that, it'll transfer on the park," he added.
"We're all grown men and we've got to get out and do it this weekend."
Match: Cowboys v Wests Tigers
Round 14 -
Venue: 1300SMILES Stadium, Townsville