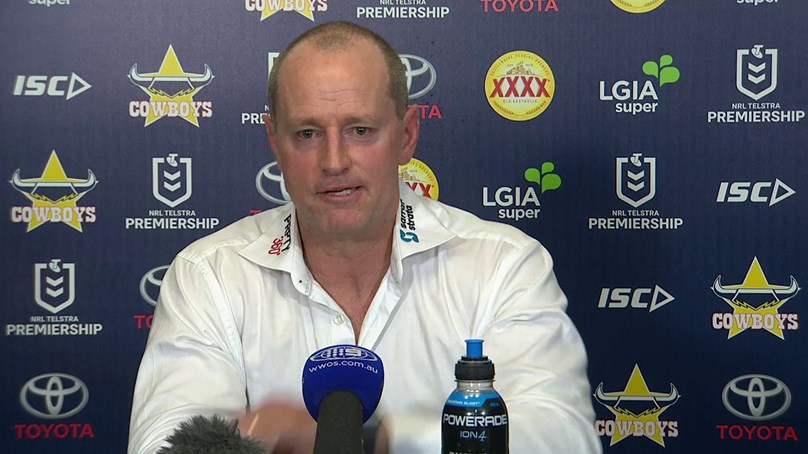 Wests Tigers Head Coach Michael Maguire spoke of the importance to secure a vital two competition points against the North Queensland Cowboys on Friday night in Townsville.
Off the back of three straight defeats and having squandered a 20-0 lead to trail 24-20 late on, Maguire's side showed terrific resilience to overcome adversity and a belief to collect the two points on offer at all costs heading in to the week off.
"We came here to find a way to win tonight," Maguire said post-match.
"I didn't expect it to be the way it was in the end, but I'm obviously very pleased for the boys with everything that's gone on over the past month.
"They've shown some really good signs and we did what we wanted at the start of the game, but we've still got to learn how to play for that 80 minutes."
"There's probably some really simple lessons to come out of that game. We were in control and we gave the game away, but as a coach, it was good to see the boys really fight for each other and get away with the win in the end.
"We've got to fix that — we're at a level now where you just can't be doing that — and it's obvious with the game that you have to be playing for the 80 minutes."
2019 Match Highlights: Rd.14, Cowboys vs. Wests Tigers

With three home games coming up at Bankwest Stadium against Sydney rivals in the Rabbitohs, Roosters and Eels, Maguire said tonight's win was a crucial step in being able to step up in those games and consolidate the side's spot in the eight.
"When you go through adversity as a team and you're not getting the wins that you'd like, we just have to find something else," Maguire reflected.
"The boys spoke about that and it's good that they found it tonight.
"It's important to us — we came away here with everything that's been going on and found a way.
"I've got a real belief in this team, and they need to make sure that out of this game, they learn that if they play the way they're capable of, then there's no reason why we can't make sure we start to get wins off the back of things we've been doing."
The win was Wests Tigers' first Golden Point victory since 2012.
Match: Cowboys v Wests Tigers
Round 14 -
Venue: 1300SMILES Stadium, Townsville