Wests Tigers five-eighth Benji Marshall says a day-by-day approach is bringing out the best in him as he continues to wind back the clock with his form in the 2019 season so far.
Marshall, who will play career game 299 this Friday night against the Sydney Roosters, was his usual relaxed self ahead of this week's game, and reflected on the attitude helping him stay grounded in his strong start to the year.
"I feel like I've got a lot of energy and I'm very excited with where I'm at with my footy at the moment," Marshall said. "Playing for New Zealand was a big deal for me, so when you come back to club land you really want to give back to the boys because without them you can't make those representative teams.
"I think last year I got a lot of success out of just enjoying every game as if it was my last year. When I embrace it that way, there's no pressure but also my mind can't relax because I know that I'm definitely going on next year or whatever."
"I just try to play each game as if it is my last..."

Benji Marshall
"I won't say no to going around again until I make my actual decision and that's still a fair way away from happening. There's still a lot of footy to be played, and a lot can happen between now and then and my focus is just on the top eight.
"Whether I play again or not next year isn't really a priority at the moment."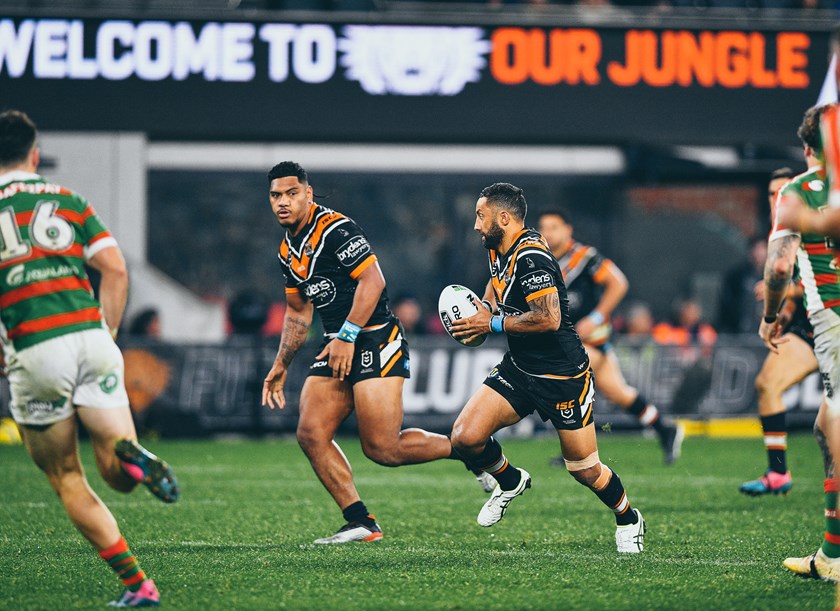 Having produced the match-winning play for Wests Tigers against the Cowboys two weeks ago, Marshall's good form also saw him return to the New Zealand Test arena for the first time since 2012 — steering the Kiwis to a stunning win over Tonga that capped off an emotional week for the veteran playmaker.
Marshall was visibly emotional pre and post-game at Mount Smart Stadium, and couldn't hide his pride in securing a return to the black jumper once again.
"I knew it was going to be emotional, but probably not to the extent that it was," he said. "You can't help how you feel and at the time; it just hit me with overwhelming emotion and I suppose that's just how much it meant to be and my family.
"I'm actually proud with how it came out and the reaction to it has been awesome.
"When you hear things about how much you've helped New Zealand rugby league it means a lot, but the job's not over and I still feel like there's more I can do.
Marshall thankful for emotional week

"I feel like I have a lot more to offer with what I can do on the field with this team, and our goal is to make the top eight this year. I want to be a big part of that, and we need to be on this week against a good team in the Roosters.
"The job's not over yet."
Who is the most skilled player you've played with?

Two gritty performances from Wests Tigers sees them head in to Friday's clash against the defending premiers at Bankwest Stadium on the cusp of the top eight, with another big home game lined up for what could be Marshall's 300th — a clash against the Parramatta Eels at Bankwest Stadium on Sunday afternoon.
But for now, the only game that matters is Friday, as Wests Tigers look to secure their third straight win for the first time this season and build on the resilient defence that got them over the line in the end against the Rabbitohs.
"They're all big games from now out and we really need to win this week," Marshall said of Friday's clash against the Roosters. "I still don't think we're playing as well as we can, but the thing about this time of year is that you just have to get the wins — it doesn't matter if they're ugly or not, you've just got to take the two points."
Match: Wests Tigers v Roosters
Round 16 -
home Team
Wests Tigers
9th Position
away Team
Roosters
2nd Position
Venue: CommBank Stadium, Sydney