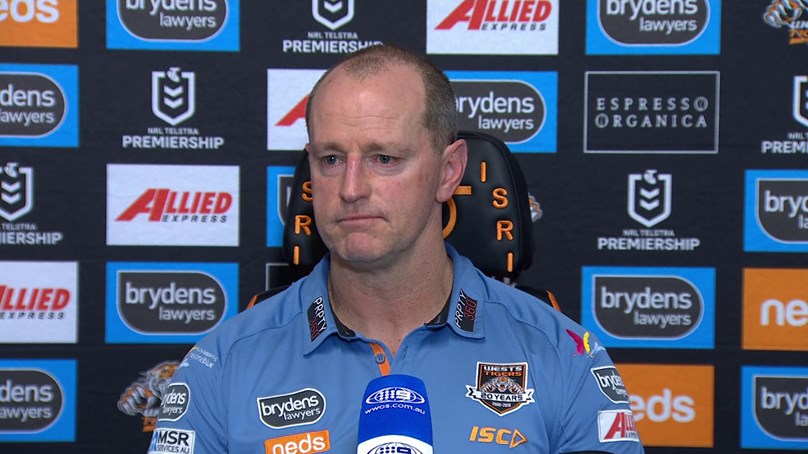 Wests Tigers Head Coach Michael Maguire reflected on his side's close defeat tonight against the Sydney Roosters, highlighting the positives strides forward being taken by the squad.
Having gone down in disappointing fashion to the Roosters when they met earlier this year, Wests Tigers were a much improved side on Friday night — pushing the defending premiers all the way and threatening to run away with the contest in the second half, but were guilty of clocking off for key moments in the game.
While frustrated with the result, there was no hiding the pride from Maguire for his side as they continue to progress in their first year under the new Coach.
"The boys are really growing," Maguire enthused post-match.
"We've been working extremely hard to get through longer periods of time of high intensity and they're definitely showing me what they have been working on.
"The game was one that I feel we shot ourselves in the foot a few times, and we've not been able to put ourselves another win further up the table."
"I actually told the boys I was really proud of them," he added. "I was really proud of how they want about their game tonight.
"We didn't get the result go our way; we presented a number of opportunities that we didn't quite take, but if they keep putting themselves in that fight, then those games will start tipping your way — you've just got to stay at it."
2019 Match Highlights: Rd.16, Wests Tigers vs. Roosters

Despite a botched try just before half-time, Wests Tigers raced out of the break with two tries in seven minutes to lead the game and Maguire said it was an opportunity that, while well-deserved, should have been put away on the night.
"The side felt confident at half time but again it's something that we as a club we're trying to build," he said. "We've changed the style of how we're playing and defensively, we're growing as a group, but we'll take those key moments out of the game tonight.
"It hurts, to be honest, because it was there for us. I thought the boys did a lot of work to be able to put themselves in that position to win the game.
"I see the boys putting in that sort of effort, and if they do, in those games will start swinging our way. They did over the past couple of weeks, but we've got to make sure that we keep finding those opportunities where you can build more pressure because that's the key."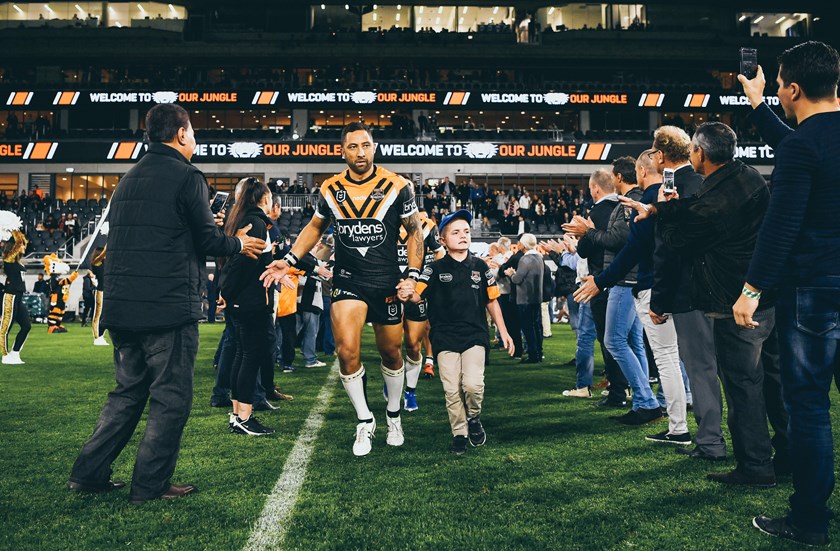 Wests Tigers will play their third home game in a row at Bankwest Stadium next Sunday as they take on the Parramatta Eels in a huge clash for both sides.
Veteran playmaker Benji Marshall will celebrate his 300th NRL game, with Maguire highlighting the focus for the Kiwi superstar heading in to the key clash.
"I've had a couple of weeks with Benji where I was overseas with him and I saw the passion for the Kiwis jersey, but there's a hell of a lot of passion there too for the Wests Tigers jersey," Maguire said.
"I'm really looking forward to being a part of the week because it's a special game, but one thing I know is what Benji's focus will be and that's about growing this team and the game itself.
"There will be a celebration around the game, but I know what Benji is after and that's for this team to get on the winning side on the day."
Match: Wests Tigers v Eels
Round 17 -
Venue: Bankwest Stadium, Sydney