Wests Tigers Head Coach Michael Maguire says his side haven't wavered in their focus despite missing a chance to move in to the top eight last week with a loss to the Bulldogs.
As his side prepare to take on the Sea Eagles at Lottoland in a must-win game on Thursday night, Maguire said the changes to the side this week have forced the team to stay fresh and focused on the job at hand this weekend.
"The thing with those boys being out is it creates an opportunity," Maguire said.
"We're still focused on what we started way back in November.
"One game at a time now is obviously the big thing for us — we're going to go over to Brookie tomorrow and perform at our best."
Dealt a blow last week with Robbie Farah's injury, Maguire said the return of Jacob Liddle this week was an example of that new opportunity to the team.
"I'm really looking forward to Jacob getting out and starting," he said.
"He's been really professional about how he's gone throughout the season.
"I've been able to see him learn a lot and get a really good understanding around the game. Now it's about him using it, and I'm sure he's going to enjoy himself out there tomorrow."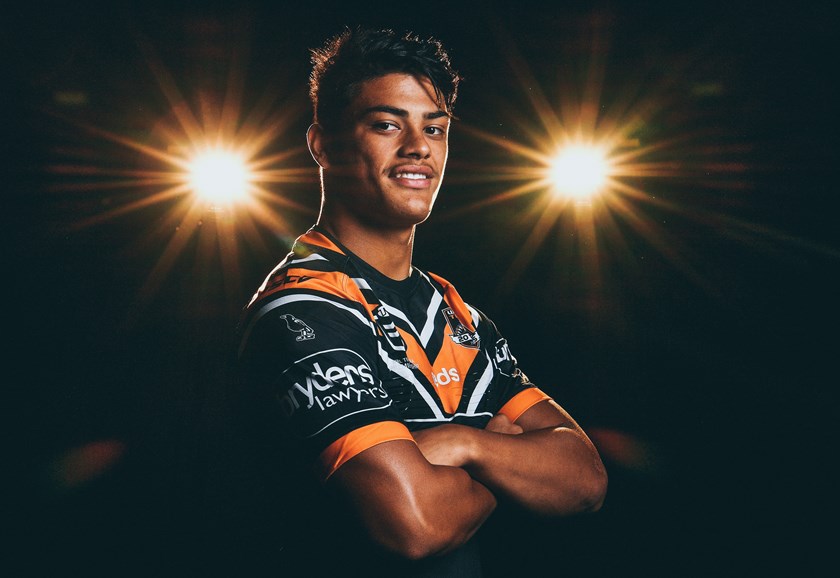 Another fresh face to the side is 19-year-old Tommy Talau, who will make his first-grade debut in place of injured captain Moses Mbye.
The third player to make their NRL debut this year for Wests Tigers, Maguire was full of praise for the youngster and his potential.
"There's nothing better than being able to blood a kid that's been doing a lot of work in the background," Maguire enthused.
"He's young coming in to the team, but throughout the season I've really seen him develop his game and it's really well deserved.
I'll let everyone else determine [if he plays like his dad] when he plays.
"He'll forge his own as he goes throughout his career.
"It's a good story for Tommy to see how he's come in as a young kid off a tour.
"He's been able to watch some great players in front of him and he's really taken that on board and it's great to see him having a run."
Manly will head in to the game off the back of a tough loss in New Zealand last weekend, and will certainly be desperate to get back in the winners circle.
For Maguire, however, the focus was simply on what his side needs to do.
"We're pretty desperate ourselves," he said.
"How we are is the big thing we're focused on.
"We're alive at the moment — we're well and truly in the mix with everything that's going on in the game and I know the boys are focused on that."
Match: Sea Eagles v Wests Tigers
Round 22 -
home Team
Sea Eagles
4th Position
away Team
Wests Tigers
11th Position
Venue: 4 Pines Park, Sydney