Wests Tigers co-captain Moses Mbye said he was excited to see a "positive" Josh Reynolds return to action this weekend in the club's first trial match against the Penrith Panthers.
Reynolds has been named as part of a strong squad by Michael Maguire for Saturday's trial match at Panthers Stadium as he looks to stake his claim for a spot in the season opener against St. George-Illawarra on March 15.
Off the back of a frustrating injury run and an off-season dominated by a domestic violence charge, Reynolds was recently cleared by the NRL to not be subject to the No-Fault Stand Down policy and will take the field as expected in 2020.
Eager to no doubt let his footy do to the talking, the Wests Tigers co-captain said he was excited to see Reynolds back in action this weekend.
"I think the biggest thing for Josh has been that the way he's carried himself throughout the whole process has been a real testament to his character and who he is," said Mbye. "It's been a real positive to see him back with a smile on his face and getting around the club like he always does. 
"He's full of life and you can see that in the way he plays — he's a bit of an Energiser bunny out there on the field.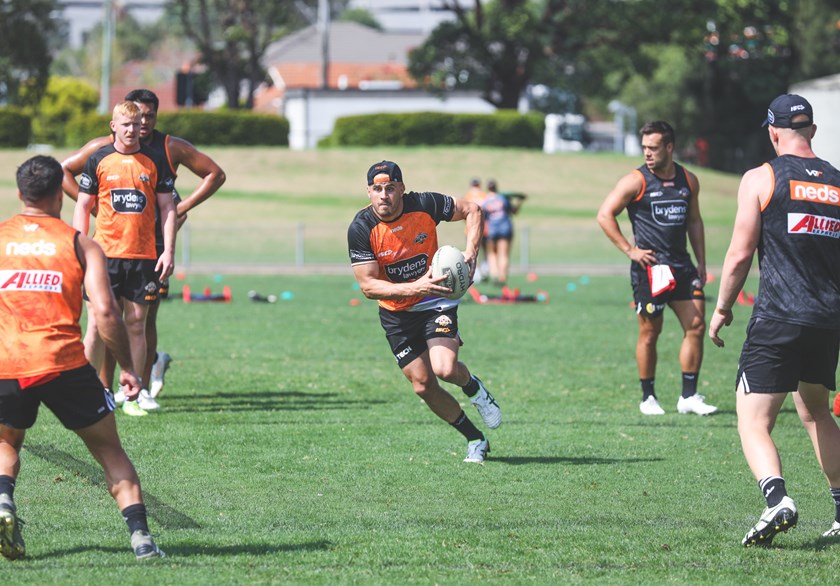 "I think that doubt over whether he would be playing or not with the no-fault stand down was hindering him a little bit but it's good to see him smiling."
With Luke Brooks and Benji Marshall not playing this weekend, Reynolds will likely start the match in the halves alongside youngster Jock Madden before shifting to hooker later in the match in a bid to potentially claim the number nine jumper.
Reynolds, Mbye and new recruit Billy Walters are all leading candidates to take over hooking duties in 2020 following Jacob Liddle's injury, with two trial matches against the Panthers and Warriors set to provide an insight in to each player's chances.
"Obviously Josh has played a handful of games there [at hooker]," Mbye said.
"He's played there at Origin level but we've got young Billy who's come up from Melbourne and has really put his front foot forward. He's been going good."
"I don't want to give too much away but it'll be competitive.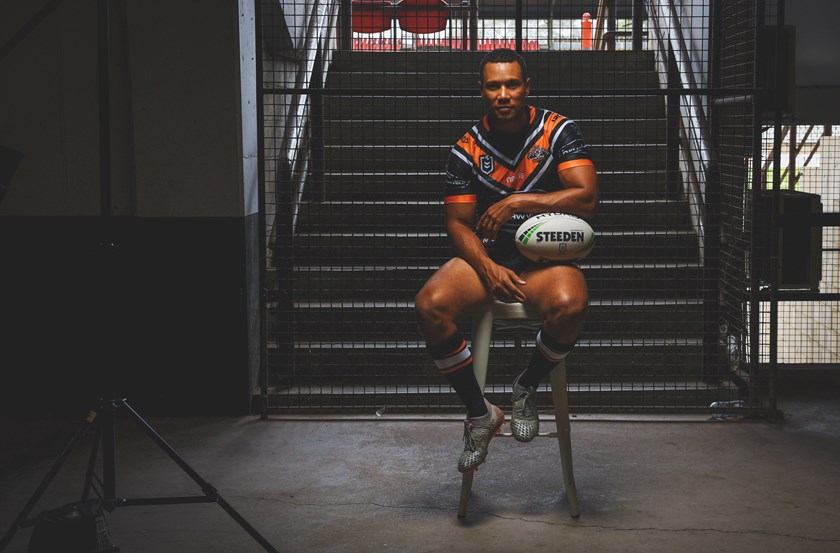 "Once you cross the line, whether it's for the two points or not, you're going to be playing tough and playing hard — especially for someone like Josh who's been playing for a while now and is looking forward to playing some really good footy and getting that spot in the side for Round 1.
"It's good to have some depth [in cover]," Mbye added.
"I think most clubs that have been successful in recent years have had really good depth in those key areas."
I think most clubs that have been successful in recent years have had really good depth in those key areas.

Moses Mbye
Having led the team last weekend in Perth during the NRL Nines, Mbye is one of a handful of big names at Wests Tigers who won't feature this week, with a full-strength side set to face the Warriors in Rotorua new weekend.
Mbye will be on the sidelines at Penrith this week — alongside the other members of the NRL squad not in action — to cheer on their teammates.
Positionally, the 26-year-old could be slotting in at either centre, hooker, fullback or even in the halves following his success there earlier in his career, but was more likely to be spending time in the former two for much of the game.
NRL.com preview 2020 trial matches

The Noosa Pirates junior said it didn't change his preparation, however, with the trials an important part of a team's preparations for the season.
"We're fielding a pretty strong side against Penrith this week so it should be a good way to see where we're at," Mbye enthused. 
"[Whatever position I'm playing] it doesn't change too much for me. 
"Everyone's competing for a spot come Round 1 so it's healthy to have that competition.
"I think [the trials] are a good measure to see where you're at in the pre-season; you can put it into practice against competitive opposition.
"Certainly around the individual areas with your contact and your wrestling and also just to get the feeling of competing back, it's definitely helpful."
Wests Tigers will kick off against the Panthers at 7:00pm AEDT on Saturday.