Wests Tigers co-captain Benji Marshall was full of praise for fellow Life Member and Chris Lawrence ahead of his NRL 250th game this Saturday — a match which will also see the veteran Marshall play his 250th game in Wests Tigers colours.
Having played together for over 10 years, Marshall said he was extremely proud to be sharing his milestone with Lawrence, and spoke in glowing terms about the local junior's contribution to the club over the years.
"To be standing here for my 250 games for the club is something that's special to me," Marshall reflected, "but more impressively and importantly is the guy who is doing it with me.
"Chris Lawrence epitomises the heart and soul of the Wests Tigers. When I talk about toughness and resilience, Chris sums that up for me.
"He is the toughest player I've played with and probably the person I've seen come back from the most difficult time to still have a presence in the NRL.
"What he did [coming back from] his face last year is something I'm proud of."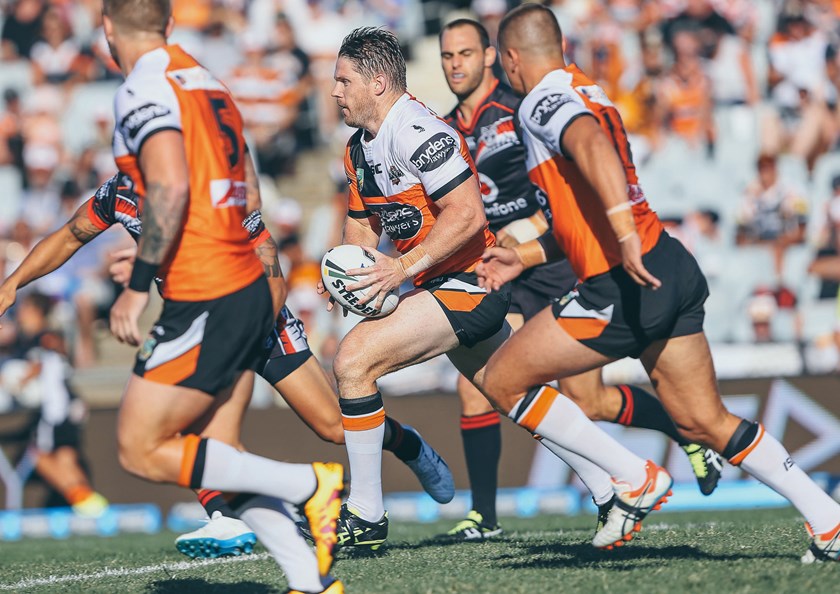 Although excited for his own milestone, Marshall said it was important that Lawrence receives the recognition and praise for his excellence over the years.
"I love this club there's no doubt about it but this week, for me, is about Chris," he said. "Playing 250 games at not only the NRL but for one club is really impressive.
"I'm proud I'm not only his teammate but his mate as well. He is one of the nicest guys in the game but as a teammate he is someone you can rely on."
Press Conference: Chris Lawrence
"I don't think I could have back from that [injury in 2019] but because it was Chris, I knew he could. The way he has returned with no fear in tackles is incredible. That injury was the worst thing I have ever seen in rugby league so it's a credit to him."
Currently level on 84 tries each for the club — the most by any players in Wests Tigers history — Marshall was in a joking mood when reflecting about the record and which player will take out the honour come seasons' end.
"I hope he wins that as well," he said with a laugh.
"You never play for records but scoring that many tries is a big feat as well.
"I generally believe he is the best ball runner that I've had outside me in my whole career and I don't say that lightly.
"He's the most genuine worker and someone you can rely on and hopefully that comes to fruition this week."
Match: Knights v Wests Tigers
Round 13 -
Venue: McDonald Jones Stadium, Newcastle