Wests Tigers Coach Michael Maguire said it was a quite change-room after Saturday's heavy loss to the Newcastle Knights, with ill-discipline and errors again costing his side in the 44-4 loss.
On a night that should have been one of celebration for the visitors with favourite sons Benji Marshall and Chris Lawrence both marking their 250th appearance for the club, it was instead an evening of frustration, with a third straight defeat leaving Wests Tigers outside of the finals positions with limited games remaining in the year.
Maguire said it was a disappointing dressing sheds after the game, and implored his side to recapture the resilience they had shown throughout the 2020 season so far.
"We had a very quiet change room," Maguire reflected after the game.
"We just played against a team that played better than us today.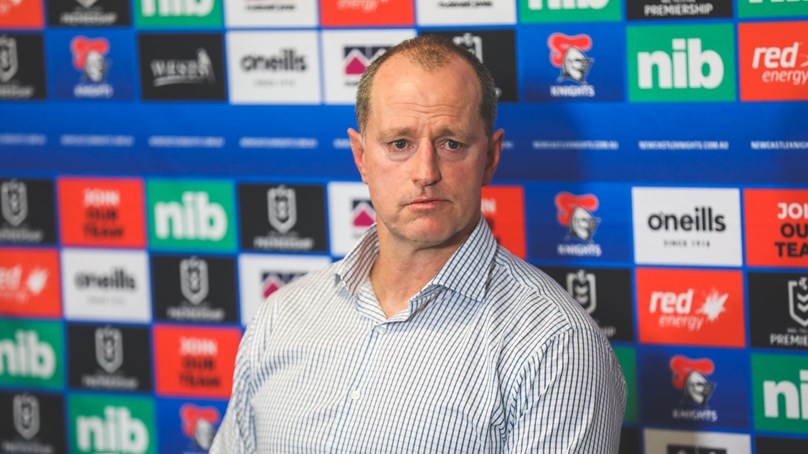 "They performed and got competitions and we just didn't give ourselves a chance in the first half — it can become a snowball effect when you don't have the ball.
"It was not a great night for us.
"When the momentum swings you need to know you can get it back and we didn't do that today. We need to understand what momentum is in our game and how to keep working hard when it goes against you.
2020 Match Highlights: Rd.13, Knights vs. Wests Tigers
"We needed to fight it back and we weren't doing that."
Sitting in tenth position ahead of a home game against the Canterbury-Bankstown Bulldogs this Sunday, Maguire said his side needed to go back to what they had been doing well in recent weeks — starting with the resilience that had delivered strong performances against several top teams throughout the year.
"We go back and look at the areas we can fix up," he said.
"There's been games in the past couple of months where we've completed really high [so] it's out of character for us with the completion rate.
"The Knights put a lot of pressure on us with that."
Match: Wests Tigers v Bulldogs
Round 14 -
Venue: Bankwest Stadium, Sydney