Wests Tigers hooker Jacob Liddle said he's relishing the opportunity being back on the playing field in 2020, and says the potential return of Harry Grant from injury would only be a boost for he and the side.
Arguably the competition's finest player prior to his injury in Round 12, Grant's absence from the number nine jersey has benefited Liddle — who has made a successful return from injury himself after an long period out of the game.
The on-loan Storm hooker could return from injury against the Panthers this weekend, and the man he could possibly replace in the middle said it would be a boost for both his own game and the side to have him back.
"There was a chance I wouldn't even play this year so to get any game time is something I've been stoked with," said Liddle.
"My knee is feeling good being back; I've been sticking to my strengths and getting my game back on track.
"It's been a great experience to get back on the field this year and I'm just focused on giving it all I can. I need to make sure that whatever happens [with team selections] that I get my job done for the team.
"Harry's a great player and I'd love to play with him.
"He's a great bloke off the field and it's been good to have him around the club."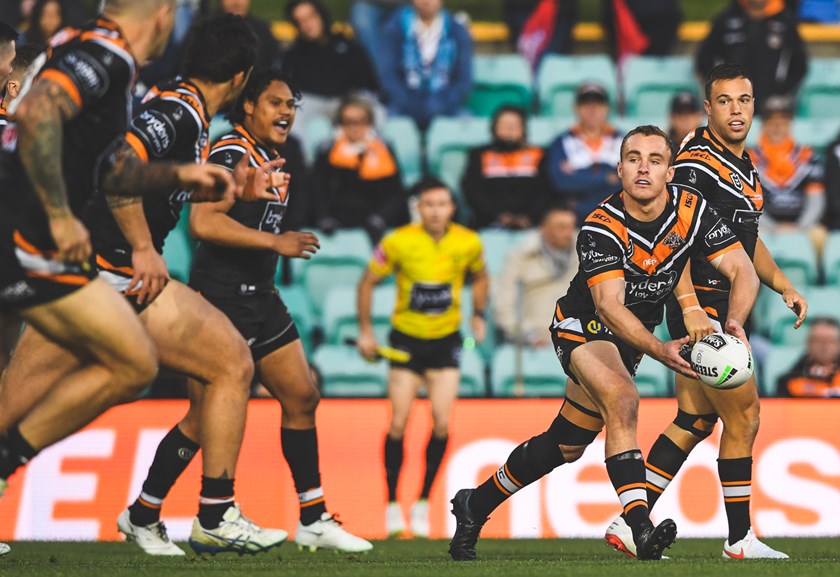 A strong performer despite last week's heavy defeat to the Roosters, Liddle said confidence in the side hadn't wavered despite the result.
"We're not happy with where we're at but we still have a chance to make the eight," Liddle said. "That's the reality — we have a big game this week against Penrith.
"I think we can beat any team on our day. We have the players to do it — we just need to turn up with the right attitude and give it all we've got.
"We weren't happy with our first half performance against the Roosters.
"We did show a bit in the second half but we need to string that together for 80 minutes. 
"We need to keep our finals hopes alive so we have no other choice but to beat them."
Match: Panthers v Wests Tigers
Round 16 -
Venue: Panthers Stadium, Penrith