Wests Tigers Coach Michael Maguire has launched a passionate defence of his side ahead of Thursday night's must-win game against the South Sydney Rabbitohs at Bankwest Stadium.
With much of the attention focused on the off-field actions last week of Josh Reynolds and Russell Packer — and not the on-field actions of Wests Tigers as they roared back from a 14-point deficit to claim victory — Maguire said the playing group was full of support and strong in its commitment to each other as they look to keep their finals hopes alive tomorrow night.
"One thing I will say about the playing group and those boys that are in the news is that they have definitely bought in to everything we've been doing," Maguire enthused.
"They've been training extremely hard and they're very keen to be out there on the field. That leads to some sort of frustration at times. 
"But what happened in the game reflects what this club is all about.
"We were down and out — right down to four minutes to go — and the boys found a way to win the game. That's really what this club represents.
14 points in 11 minutes: Re-live the thrilling comeback!

"It's definitely unfair [to say it reflects a poor culture]," he said. 
"That's miles away from where we are as a club.
"The boys are doing everything they can to get the result like we did on the weekend.
It was a real resilient performance, and to see them support each other and play like they did — I was really proud of them.

Michael Maguire
"The commitment from this playing group to everything we've been doing is top notch," Maguire added. "I've been around teams and seen the commitment — it's about getting the results. That comes from sticking to the commitment and people buying in to what we're about as a club and the culture we have.
"Russ and Josh's names keep popping up in the media — they are committed to the club and they have a contract here next year," Maguire said. 
"You always have list management going on inside an organisation to how you can improve as a group, but those two boys are here. Everyone has to understand that. 
"When they first signed here, they came to help build Wests Tigers as a stronger organisation, and they're here [to do that]. They are here next year and our commitment to what we're trying to achieve hasn't changed."
When asked about the possibility of local junior David Nofoaluma — who currently leads the NRL try-scoring list — moving on, Maguire was quick to interject.
"No chance," Maguire stated.
"There is no way in the world that David is leaving.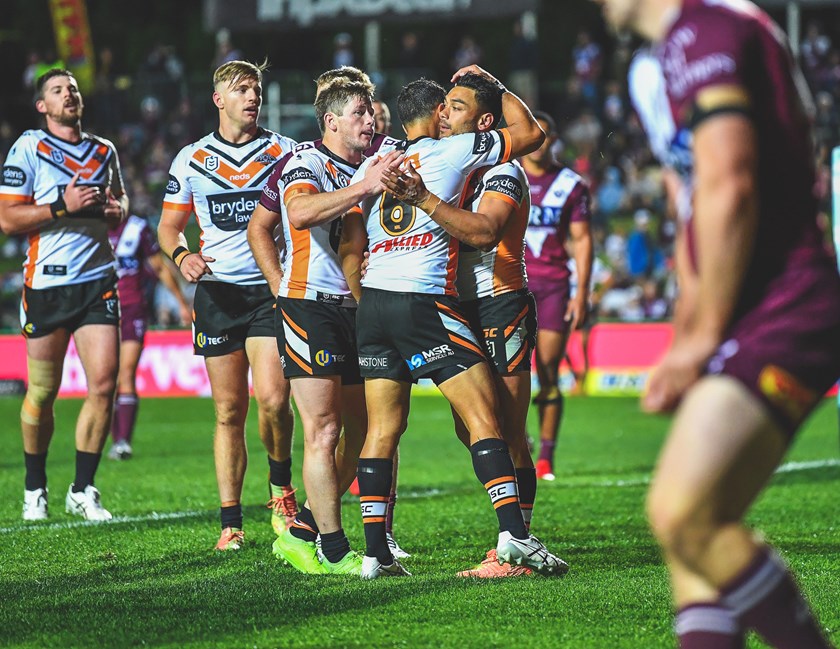 "He loves the club and you can see by the way he plays. I really enjoy coaching Dave. 
"Dave is a Wests Tigers player and you can see the passion in that in what he does and how he plays. He's not going anywhere."
Match: Wests Tigers v Rabbitohs
Round 18 -
Venue: Bankwest Stadium, Sydney