Wests Tigers Coach Michael Maguire praised the effort and unity of his side in an enthralling Round 18 clash against South Sydney.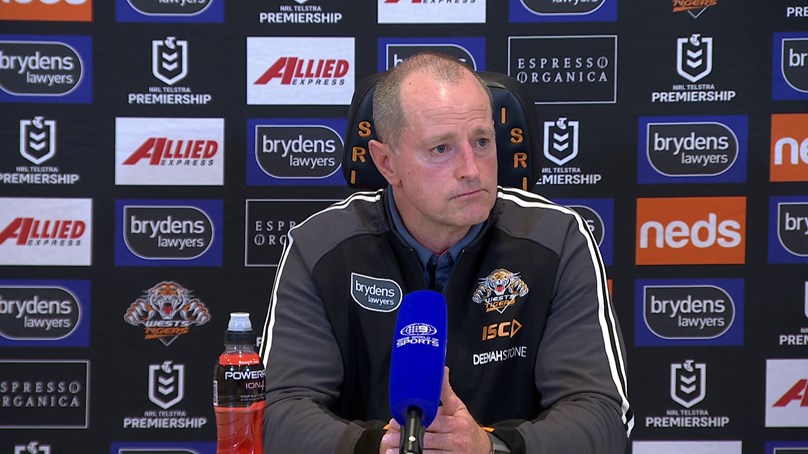 Despite falling by two points in the end, Wests Tigers showed plenty of heart and determination to fight back from a 20-point deficit to climb back to within two, but couldn't land the final blow required to complete the comeback.
"The effort was there," Maguire enthused.
"I was really proud of the way the boys fought and looked after each other.
"You could really see a determination that's been building in the team throughout the season. That really came alive in the second half and the boys were really determined to get that win, but unfortunately you don't get what you deserve sometimes.
"The effort, and the way they want about it, made me very proud.
"There's a lot of belief in the team and I've seen that," Maguire said.
"We stuck to the process tonight to put the opposition under pressure, and we made things stick in the second half. But we made it too hard in the first half with some cheap [tries] and put ourselves under pressure having to chase."
Having fought back from 14 points last week to defeat Manly and 20 points tonight, Maguire said there was no denying the passion within the ranks of his squad, and emphasised the need for it to remain over the final weeks of the season.
"We've just got to be able to hold that passion for longer periods of time," Maguire said. "It's something we've talked about throughout the season — being consistent in how we play.
"If they hang on to what they showed tonight, they'll beat many a team.
"We've just got to be able to find that for longer periods of time and not give up possession at the start of the game."
Match: Storm v Wests Tigers
Round 19 -
Venue: Sunshine Coast Stadium, Sunshine Coast