Wests Tigers Members and fans will get the chance to see their team in action for the first time in 2021 as they take on Sydney Roosters in a pre-season preparation at Kirkham Oval on Saturday night.
Head Coach Michael Maguire has named a 33-man squad for the match, with all players having played no more than 12 NRL games last season – a requirement to feature in this trial.
Although majority of the senior players will have to wait until next Sunday's trial match against Manly Warringah at Leichhardt Oval, there's still plenty of reasons to be excited for Saturday's match as combinations will be strengthened and players stake their claim for Round 1 selection.
We break down the four things to watch out for during the match against the Roosters.
New Recruits
Saturday night's match will be the first time you can see new recruits Daine Laurie, Stefano Utoikamanu and Tuki Simpkins wearing the Wests Tigers colours after they were all named in the squad.
Laurie, who has joined Wests Tigers from Penrith, has been at the club for just two weeks but will be thrown straight into the action on Saturday night. The youngster is capable of playing at fullback and five-eighth, and we could see him feature in both positions on Saturday night.
Utoikamanu is one of the most exciting young forwards across the whole competition and is eager for a big 2021 after making his NRL debut last year. With previous experience for New South Wales U/18's and the Australian Schoolboys, he looms as a key forward for the future.
Simpkins is another promising forward to keep an eye on. He's joined the club from North Queensland and will get his first game for Wests Tigers on Saturday night.
Number Nines
Maguire has named a handful of dummy-halves for the match against the Roosters and it's likely they'll all be rotated throughout the evening.
Two players in particular to keep an eye on are Jacob Liddle and Jake Simpkin.
With plenty of NRL experience to his name, we all know what Liddle brings to the table and fans can be excited to see him back in action on Saturday. Having played in the top grade for five seasons, Liddle has never played more than 13 matches in a year – due to several knee injuries – but he'll be hoping for more game time in 2021.
Nineteen-year-old representative hooker Simpkin has his sights on an NRL debut this year and has his first chance to impress on Saturday night. The youngster was brought to Wests Tigers after helping Wynnum-Manly reach the Grand Final in the Hastings Deering Colts competition in 2019. He has also represented Queensland throughout the junior grades and featured in junior triumphs for the Maroons.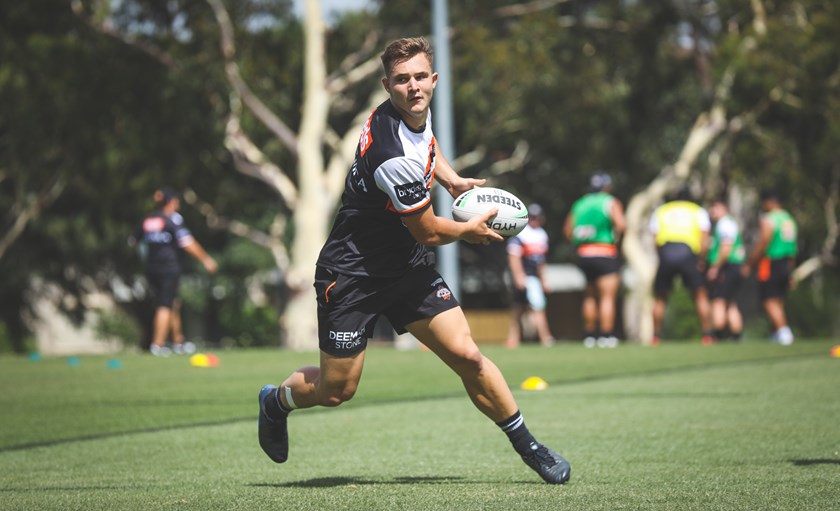 Youngsters on the rise
There will be plenty of young talent on show during the trial on Saturday night. The Jersey Flegg side will play earlier in the day and a handful of players will be called upon for the top team.
The likes of Mavoni Tuifua, Logen Dillon and Iverson Fuatimau — who all trained with the extended NRL squad over the summer — are set to feature in the match while fans will also get the chance to see our Development Players – Reece Hoffman, Kelma Tuilagi and William Kei – in action.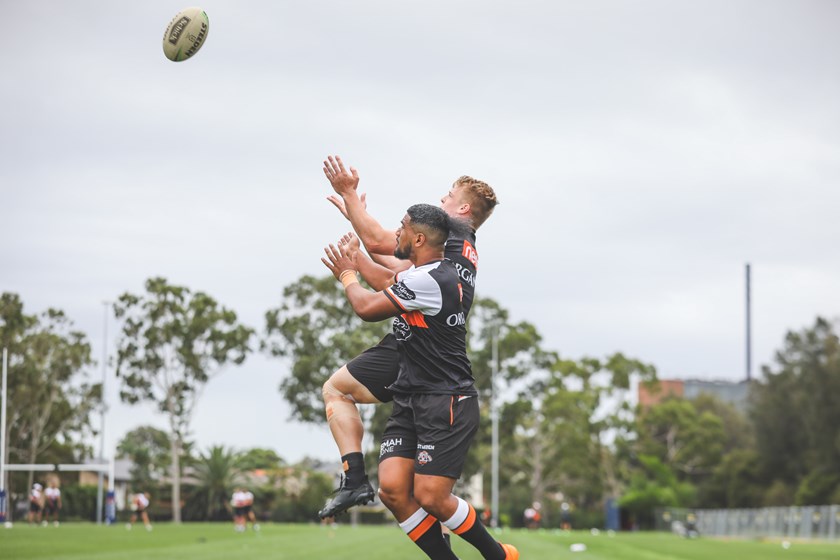 Defence
There has been a big emphasis on defence throughout the pre-season, with Maguire acknowledging it needs improving in 2021 .
Defence may not be the most exciting thing to look out for, but it's a key component to winning games. Saturday night's trial match will give the young squad their first chance to prove they're up to the challenge in season 2021.  
For more information about the pre-season preparation against Sydney Roosters, click here!
Wests Tigers 2021 Community Blitz