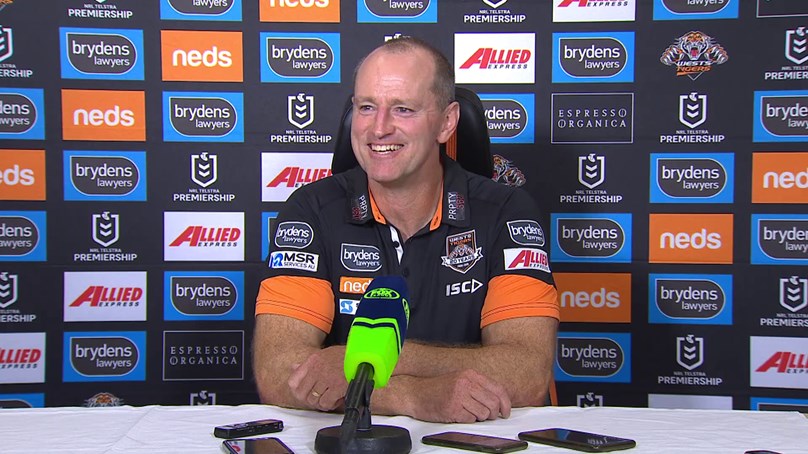 Wests Tigers Head Coach Michael Maguire knows hooker Robbie Farah better than most after coaching him previously in his career, but even he simply sat back and smiled at the veteran's dominant performance in Saturday's win over Manly.
Thirty five years young heading in to the game, Farah was a clear standout in Wests Tigers' come-from-behind victory — grabbing a second half double to lead his side to second on the ladder after the opening round, much to the delight of his coach.
"He's just really strong," Maguire said post-match of his number nine.
"He's had an outstanding pre-season off the back of what we've been doing and he's really taken the lead [at training] for many things that we've done.
"He's done a great job for an old boy, but to the honest, he looked like a young kid out there in the way that he's just really enjoying his football."
"That's the one thing I get out of the senior guys — they're just really enjoying what they're doing and if we're doing that we'll keep growing."
2019 Match Highlights: Rd.1, Wests Tigers vs. Sea Eagles
Having grown up as a Leichhardt junior on the famous suburban ground, Farah was at his dynamic best throughout the match and Maguire said it was easy to see why.
"We had a training run on it throughout the week and I was watching him practice his kicking there and you could see what he was doing," he reflected.
"That played its path tonight; he kicked it around the park at the right time.
"When you create history at the club you become apart of the club forever.
"You can see it in those boys: Benji [Marshall] and Robbie. It's about what they can do for the club and that's just something that's really stood out to us."
See what Maguire had to say in full about Saturday's game in the video above!
Match: Wests Tigers v Sea Eagles
Round 1 -
Venue: Leichhardt Oval, Sydney