Wests Tigers Head Coach Michael Maguire says his side have certainly met the challenge to harden up defensively after producing a dominant performance against the Cowboys on Thursday night en route to a 28-4 victory at Leichhardt Oval.
Just two weeks after delivering the passionate comments following a loss to the Canberra Raiders, Maguire said Thursday's win over the Cowboys was the best defensive performance he'd seen since arriving at the start of the season.
And with back-to-back wins coming at the right time of the season, the Coach said there's no reason why those performances can't keep continuing.
"They've shown that [response] in the past two weeks," Maguire said.
"I thought that was the best defensive effort we've had since I've been here.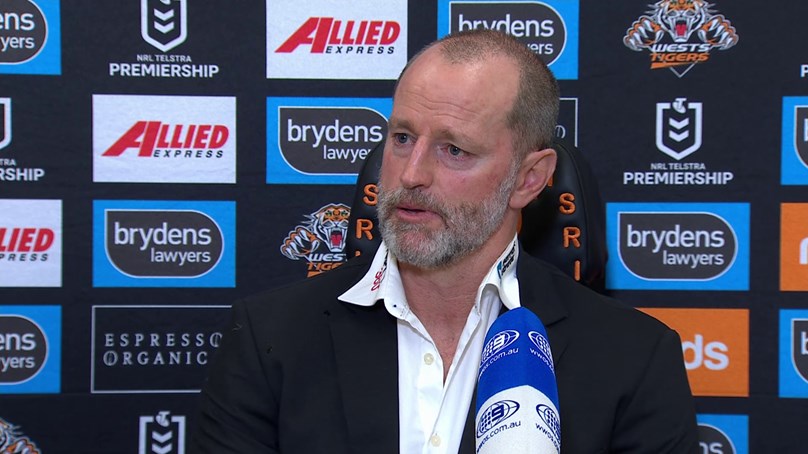 "In the first half they really had some opportunities but our boys were able to find a way to stop them, especially down our left. We're working really hard for each other and we've got to take that moving in to the next game.
"I think they've really shown that [ability] but it's about maintaining it.
"We've gone through the season being up and down but we want to make sure we build in to our next game," he added.
2019 Match Highlights: Rd.20, Wests Tigers vs. Cowboys
"I think it's about winning for each other — there's been a great feeling with the 300-gamers and a good feel around the organisation — but ultimately, we need to make sure we build a lot of momentum off the back of what we've been doing because we're in a really tight situation."
With a clash against the Canterbury-Bankstown Bulldogs next on the schedule, Maguire's side find themselves in a eerily similar position to they did when the two sides met earlier in the year at Campbelltown. 
Wests Tigers had won back-to-back games to start the year and sat top of the table, but were undone in an upset win by the determined Bulldogs — something Maguire said the team were determined to ensure didn't happen again.
"It's back to work now," he said. "We've got to turn up next week.
"I think earlier in the season we won two in a row and we fell short the following one — it's a good test for us now to see if we've grown from that. Last time we played Canterbury they got us so we need to make sure turn up and do it again.
"We've got to make sure we take a lot out of our game — the more we believe in ourselves, then the sky really is the limit.
"There's a great belief with what we're capable of."
Match: Wests Tigers v Cowboys
Round 20 -
home Team
Wests Tigers
8th Position
away Team
Cowboys
13th Position
Venue: Leichhardt Oval, Sydney