The battle for spots will be at an all-time high at Wests Tigers in 2018, with Coach Ivan Cleary putting together an extremely strong squad for the season ahead.
With over 10 brand new faces "on the bus" for the year ahead and a great mixture of youthful talent and experience in the midst, the team that takes to the field in Round 1 against the Roosters will be vastly different from the one that ended the 2017 season.
In the "Contenders" series, we take a look at those who will battle it out for spots in 2018, and not envy the decisions ahead for Coach Cleary in selecting a team for Round 1!
Next up, we take a look at an intriguing second row battle between a number of players!
CHRIS LAWRENCE
Age: 29
NRL Games: 208
At Wests Tigers since: 2006 
Vice-captain of the side last year and one of the frontrunners to be named as captain for the 2018 season, Chris Lawrence seems likely to lock down one of the two back row spots on offer — just as he has done for the past few seasons. The longest-serving player at Wests Tigers in 2018, the former Australian international offered plenty in attack and defence throughout the 2017 season with remarkable consistency, and his leadership will certainly be vital to Ivan Cleary's side going forward. Likely to feature on the left edge, look for Lawrence's dangerous combination with Luke Brooks in the year ahead.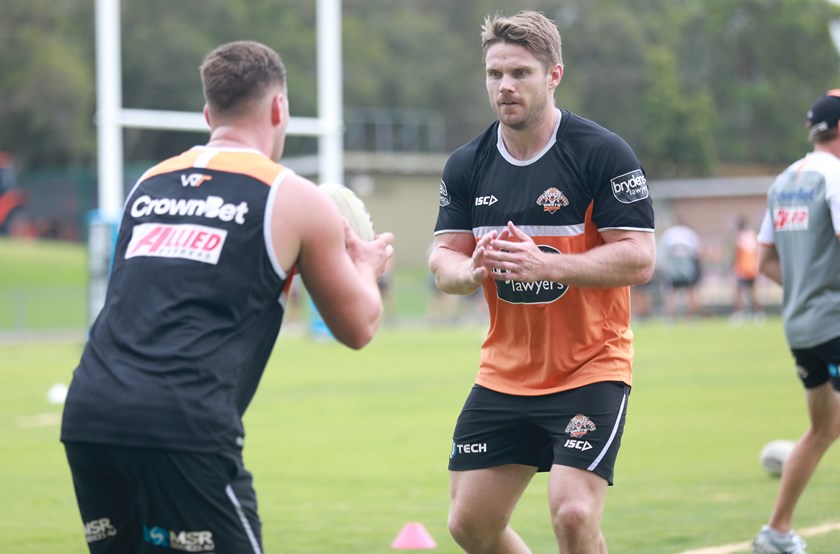 CHRIS MCQUEEN
Age: 30
NRL Games: 151
At Wests Tigers since: 2018
The first of many new recruits to join Wests Tigers in 2018, Chris McQueen heads in to the new year after a long break following neck surgery in the latter stages of 2017 — something that perhaps sounds far more dangerous than it was in the end. McQueen comes in to the new year fresh after missing England's World Cup squad due to the injury, but determined to contribute after spending long periods time on the sidelines.  Versatile in his ability as a decoy or ball-runner, the former Queensland State of Origin representative has the ability to cover in the backs should an injury occur, and will certainly come in to contention for a back row or bench spot in season 2018.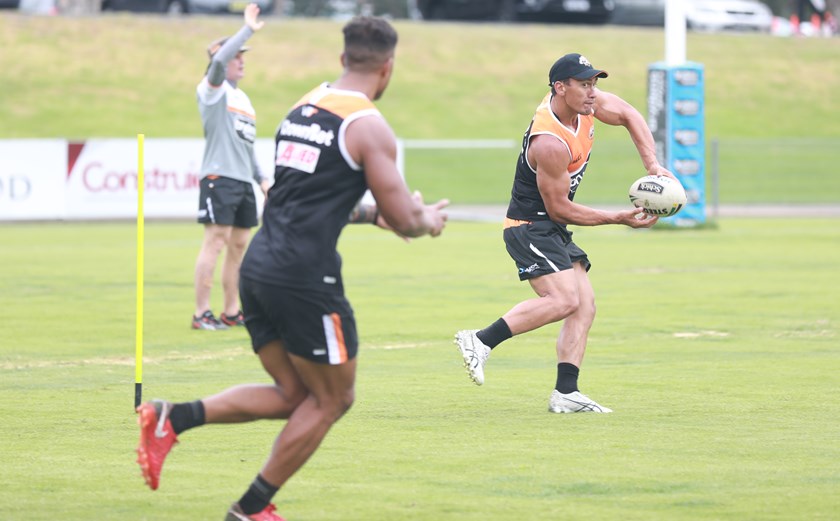 ELIJAH TAYLOR
Age: 27
NRL Games: 142
At Wests Tigers since: 2016 
Wests Tigers Player of the Year for 2017, Elijah Taylor earned a deserved recall to the New Zealand national side at the end of last season and will head in to the new year ready to build on what he achieved last year. A leader on and off the field, Taylor's defensive work rate and willingness to get involved in attack made him one of the most dangerous ball-playing forwards in the game last year and he'll certainly lay claim to that again in 2018 with a stronger forward pack around him. The question is not whether Taylor will feature in Wests Tigers Round 1 side, but rather as to where, with the 27-year-old capable of playing either back row or lock, and can also cover at hooker.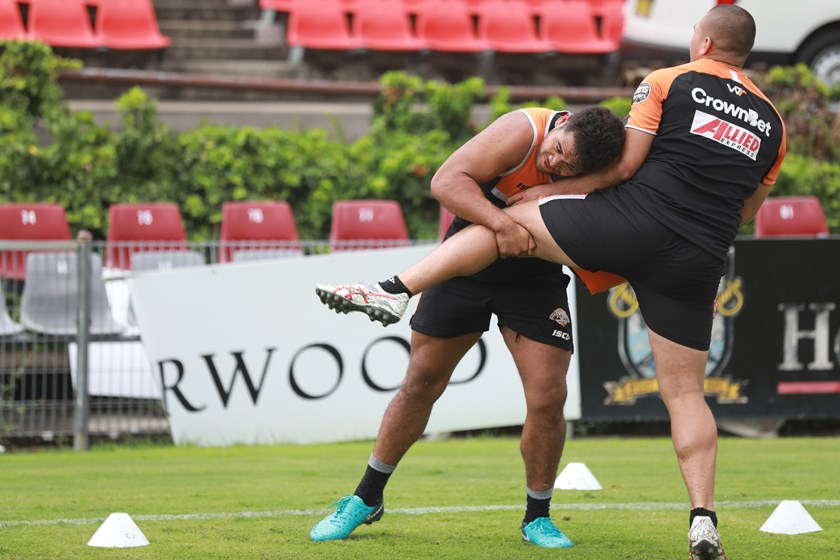 ESAN MARSTERS
Age: 21
NRL Games: 13
At Wests Tigers since: 2017
After a great rookie season saw him feature in all 13 matches to end the season, Esan Marsters will head in to 2018 looking to lock down a spot in a side that has far deeper competition for spots than before. Capable of playing in either the back row or centres, Marsters' sharp footwork and size make him a handful for defences in either position, but the question will be as to what position he'll end up in in 2018. Perhaps a utility role suits the Junior Kiwi representative more given his versatility, but there's no doubting Marsters will have his eyes on a starting jersey given his strong finish to season 2017.
JOSH ALOIAI
Age: 22
NRL Games: 39
At Wests Tigers since: 2016
Having broken a Wests Tigers record by playing every game in his rookie season, Josh Aloiai followed up in 2017 with another strong year — particularly towards the back end of the year. Playing out on the right edge, Aloiai's determined running in attack made him a handful to deal with and he'll look to build on that again in 2018. Scarily, Aloiai's 2018 season is shaping as his first year with a preseason under his belt, having battled injuries previously, which will make him a definite weapon for Wests Tigers to utilise in the year ahead. Like Sauaso Sue (who we'll get to shortly), Aloiai is capable of playing any position in the forward pack — which could mean he ends up missing out on one of the two starting spots on offer here — but back row is perhaps his best position, and he'll certainly be in the running to nab a spot in that Round 1 team on March 10.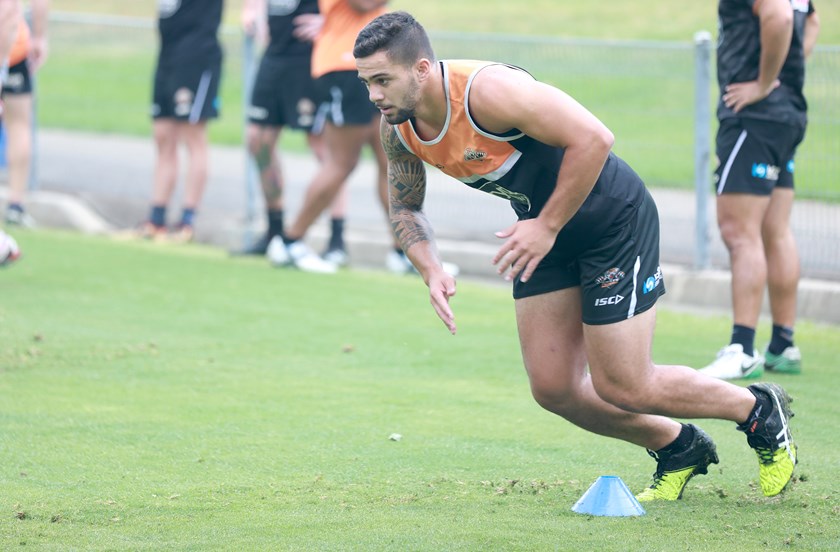 MATT EISENHUTH
Age: 25
NRL Games: 11
At Wests Tigers since: 2017
Another who impressed greatly in his debut season, Matt Eisenhuth's seamless transition to first-grade will have given both himself and Coach Ivan Cleary plenty of confidence heading in to 2018 as he looks to secure a starting spot. By the end of the year, Eisenhuth was the team's starting lock forward (with Elijah Taylor out on the edge) — leading the way with his ball-playing skills, good defence and hard running in attack. The 25-year-old is capable of playing in the back row too, which is why he gets a mention here, and he will certainly come in to calculations for a second row spot given the depth of talent available in 2018. Given how well he went last year, it's hard to imagine Eisenhuth missing the final 17 for Round 1, but there is a terrific amount of talent in Wests Tigers' 2018 squad so we'll leave that one up to Coach Cleary!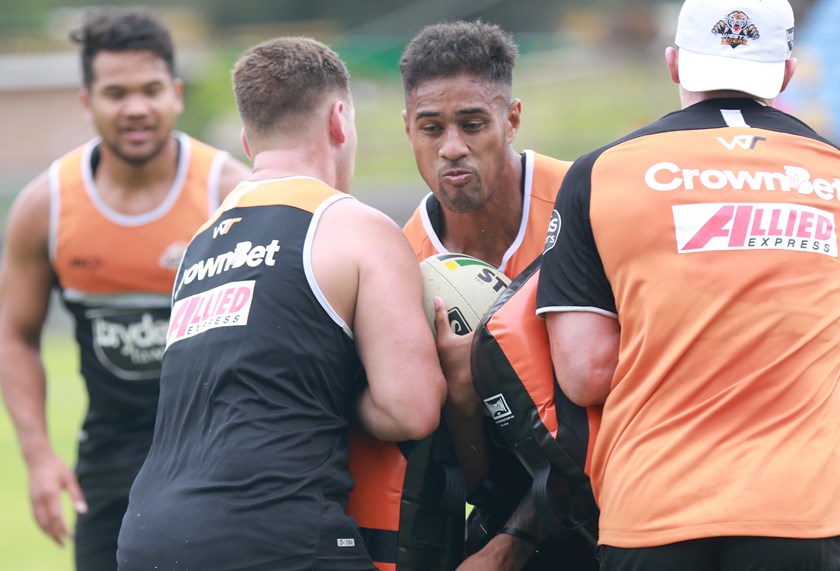 MICHAEL CHEE KAM
Age: 25
NRL Games: 32
At Wests Tigers since: 2016 
Michael Chee Kam enjoyed a breakout season at Wests Tigers in 2017 — playing 22 of a possible 24 games and crossing for his maiden try in the NRL. A relentless and consistent attitude made him an invaluable member of the squad last year and it shapes that way again in 2018 despite increased depth across the board. Able to play in the back row or centres, Chee Kam is a known quantity for Coach Cleary's plans — which will only help the 25-year-old's chances at selection — and he will no doubt play an important role throughout the year, whether that starts in Round 1 or not.
ROBBIE ROCHOW
Age: 27
NRL Games: 83
At Wests Tigers since: 2018
The last forward to join "the bus" in 2018, Robbie Rochow moves back to Sydney after spending the past few months in the Melbourne Storm system that he began his career in back in 2010. An experienced and versatile forward, Rochow is one of the fitter big men in the squad and will certainly add plenty to the squad in the year ahead — particularly if he can snag a spot in the opening 17 to start the year. The 27-year-old has played in some big games throughout his career, which a lot of the other back rowers in contention have not, but we'll have to wait and see if that will get him there for Round 1.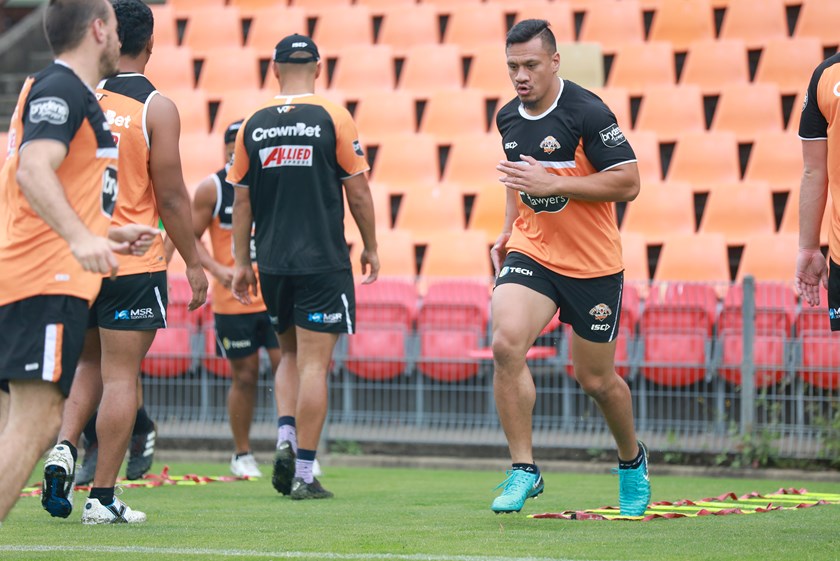 SAUASO SUE
Age: 25
NRL Games: 100
At Wests Tigers since: 2013
A regular in Wests Tigers forward pack over the past few seasons, Sauaso Sue took his game up a level in 2018 with bruising defence and hard running making for a dangerous forward on a number of occasions. Reaching the 100-game milestone, the Samoan big man will look to step up again in the year ahead, but the question looms as to what role that will be in — prop, lock or second row? Sue played all three positions under Cleary in his first season in charge of the team and will perhaps have his eye on a front row spot given the depth that exists in the back row, but that still remains to be seen.